Beelink Mini PC GK35 Windows 10 Pro Quad Core Intel Celeron J3455, 8GB RAM 256G SSD,4K Dual HDMI Desktop PC Mini, Dual 2.4G/5G WiFi, Gigabit Ethernet, USB 3.0, Support Auto Power O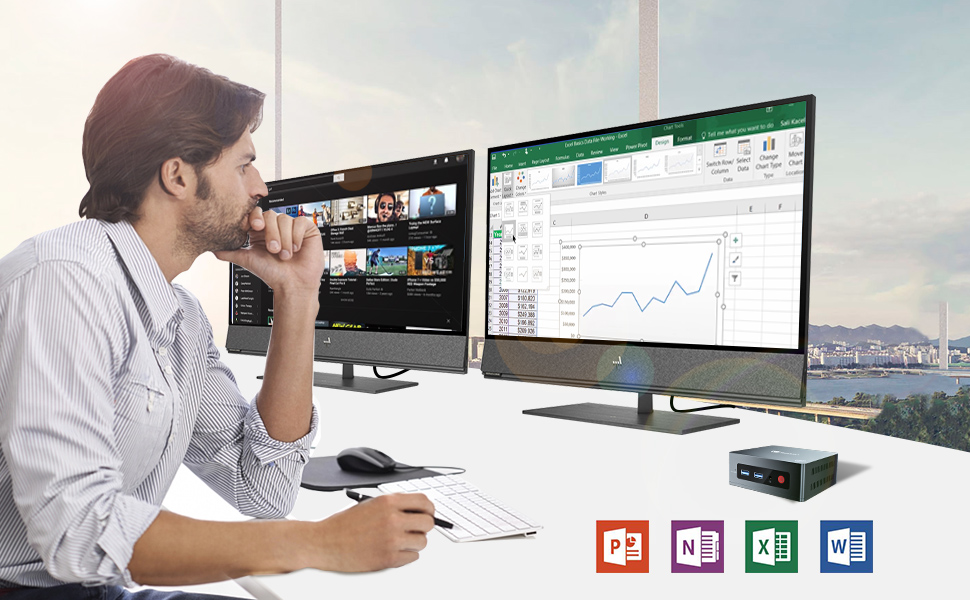 ---
Tips to better use this Beelink GK35 mini pc:
Adding an extra 2TB HDD via Sata cable , which will make the device run more smoothly.

When downloading any softwares in general, please download the file to a drive other than C drive, change the file download location of each software to a drive other than C drive, and take up as little space as possible on C drive

Uninstall any program or app that isn't needed or used. Once done, there was enough space to update Windows.

Beelink GK35 Mini desktop computer Supports RTC Wake Settings, Auto Power On, Wake On Lan, PXE Boot etc. You can set it on the BIOS.
Note:
To avoid initial setup issues, the first time you use this mini pc,don't connect network or wifi until the windows system of your mini pc is running
AZW (Beelink AZW (Beelink) Technology ) Technology
Our product Our products are portable and elegant which make you focus on our products. We provide you the next mini PC, the most advanced and the best, which is designed by our creative and innovative Chinese engineers and European appearance designers. Our hardware design research and development team devote all our passion and energy into the iteration of our product. We combine the most cutting edge technology and essential design concepts to invent such a beautiful product. Wish you enjoy!
Beelink Mini PC GK35 Excellent performance:
Quad core and Quad Threading enable better multi-tasking.
Fully capable of browsing the internet and Youtube, use Microsoft Office, watch movies, get Zoom or Skype on big TV, do some photo editing, and play simple games.
Wireless LAN: WiFi IEEE 802.11/b/g/n/ac, 2.4+5.8G WiFi,Ethernet 1000Mbps LAN
Adapter:12V-2A 24W
Input: 100-240V AC, 50/60Hz , Output: 12V 2A
CPU:Intel Apollo Lake Celeron Processor J3455 (2M Cache, up to 2.4GHz)

GPU:Intel HD Graphics 500

RAM installed: 8GB Hard Disk: 128/256GB SSD

Expand Storage: Support Expanded M.2 2280 SATA3 SSD ,2.5inches SATA SSD/HDD (Max 2TB)

OS installed: Licensed Windows 10 Pro Pre-installed
Compatible

Licensed Windows 10 Pro 64bit pre-installed on Beelink GK35 mini-pc with no visible bloatware.

You can also install Linux OS.

Expandability Expandability

GK35 mini desktop pc is equipped with one M.2 SATA3 SSD slot(Support expanded 2TB );

Support expanded 2TB 2.5" HDD.

Packed with connectivity

GK35 mini pc has all features of old desktop computer, it works with server, monitoring equipment, office equipment, monitor, projector, tv and so on.

Most of peripherals can work with Beelink GK35 mini computers immediately
RV Camping

Beelink GK35 mini pc is only 4.52 x 4 x 1.69 inches,take it with you wherever you go.

About 20~30dB

Reduces turbulence and noise (down to 20dB) while keeping the fan running

Efficient cooling design

Efficient heat dissipation, energy and power saving.

Beelink GK35 mini computers use less than 1 degree of electricity for 24 hours a day standby.
| | |
| --- | --- |
| Weight: | 610 g |
| Dimensions: | 21.7 x 13 x 5.7 cm; 610 Grams |
| Brand: | Beelink |
| Colour: | GK35 8+256G |
| Batteries Included: | No |
| Manufacture: | AZW |
| Colour: | GK35 8+256G |