GARDENA Comfort Large-Area Irrigation AquaContour automatic: surface irrigation for individual irrigation of almost any garden contour, simple programming, range 2.5 – 10.5 m (8133-20)

---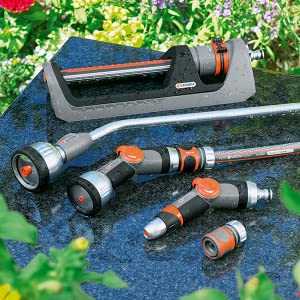 Original GARDENA System
GARDENA sprayers are part of the Original GARDENA System and ensure garden watering in exact doses.
With more than 50 years of experience, the Original GARDENA System is the basis for garden watering. Everything fits together perfectly and remains water-tight.

Circular sprinkler
The GARDENA circular sprinkler provides uniform watering for your garden. You can adjust the sprinkler individually for your garden. The desired sprinkling sector can be easily set in seven stages.

Oscillating Sprinkler
With the GARDENA Oscillating Sprinkler you can water your garden optimally. Its Turbodrive gear ensures uniform irrigation of the area. Large, broad areas or small, elongated, or narrow areas: the GARDENA Oscillating Sprinkler is the variable rectangular sprinkler for a wide range of requirements.

Full or Part Circle Pulse Sprinkler
The GARDENA Premium Full or Part Circle Pulse Sprinkler effortlessly waters large areas. The sprinkler is ready to connect, equipped with the GARDENA system connector and the end cap. This enables you to use it immediately.

Turbo-Drive Sprinkler Sled
The GARDENA Comfort Turbo-Drive Sprinkler Sled enables you to water your garden very quietly. The dirt-resistant, multi-stage turbodrive gear is patented. The sprinkler is ready to connect, equipped with the GARDENA system connector and the end cap.
Accessories for sprinklers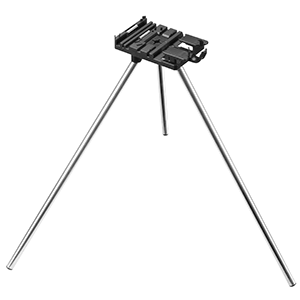 Practical application
Simple installation
No tools are necessary to connect your sprinkler with the tripod.
Sprinkler Tripod
Turns ground-level sprinklers into elevated sprinklers
The GARDENA Sprinkler Tripod turns any circular, rectangular, spray, or multi-area GARDENA sprinkler into an elevated sprinkler so that it can water even tall plants uniformly from above. The tripod has a height of 50 cm when it is set up.
Collapsible tripod
The collapsible tripod legs makes a quick set-up possible and ensures compact, space-saving storage.
Characteristics
Simple adjustment

The infinitely adjustable range and individually adjustable sprinkling width allows the sprinkler to be very easily adapted to the area to be watered.

Stable and mobile

The sprinkler base guarantees stability – the sprinkler can enjoy mobile use even on a slope or uneven ground.

No puddles

The GARDENA sprinkler's innovative precision nozzles gives you uniform, puddle-free watering.

Programmable

The individual programming allows the water stream and its range to be adjusted exactly to the shape of the area to be watered.
| | |
| --- | --- |
| Dimensions: | 32.8 x 31.8 x 20.3 cm; 1.48 Kilograms |
| Model: | 08133-20 |
| Manufacture: | Gardena |