Cooler Master Hyper 212 RGB Black Edition CPU Air Cooler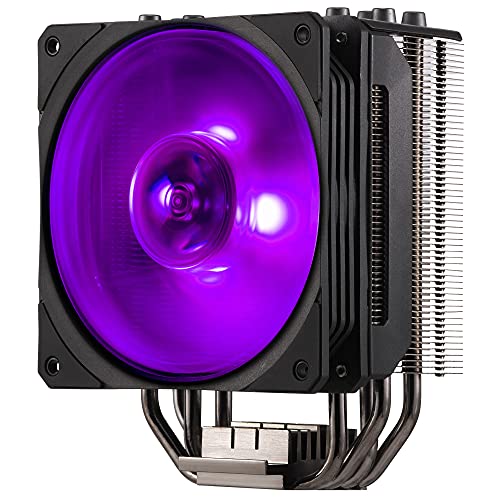 Cooler Master Hyper 212 RGB Black Edition CPU Air Cooler with LGA1700 Bracket – 4 Continuous Direct Contact Heat Pipes with Fins, SF120R RGB Fan, Optional Push-Pull Fan Configuration – Black RGB
---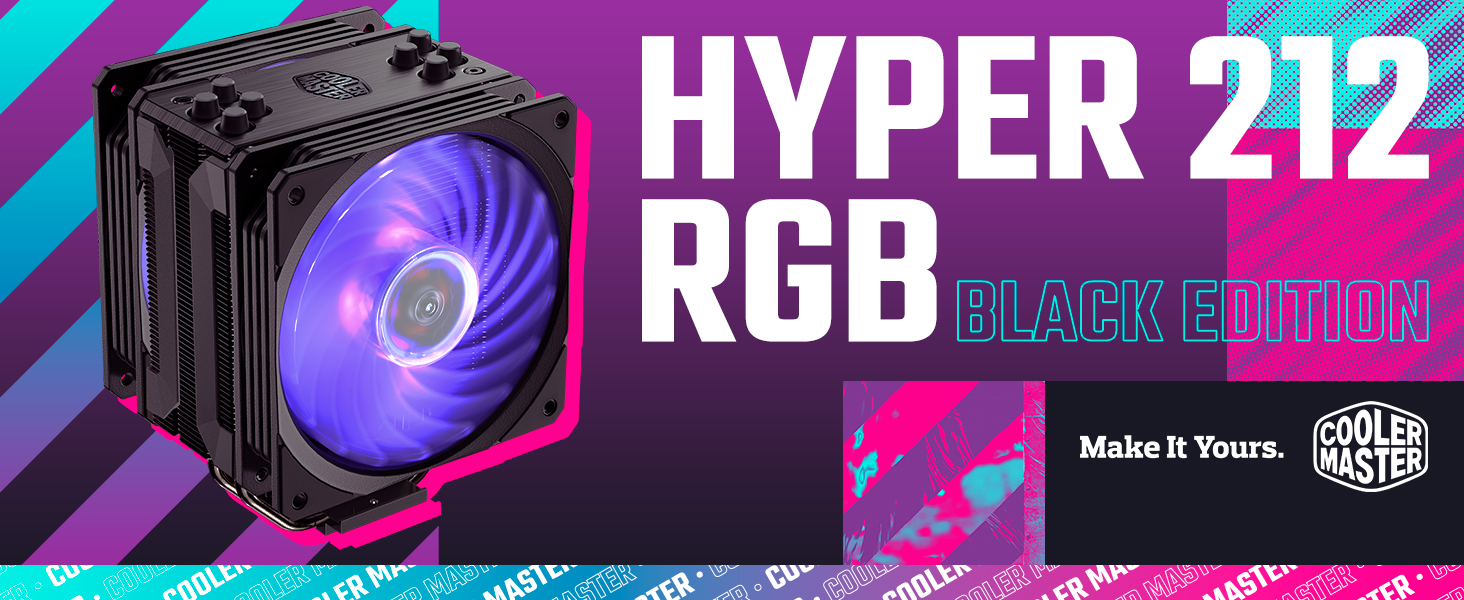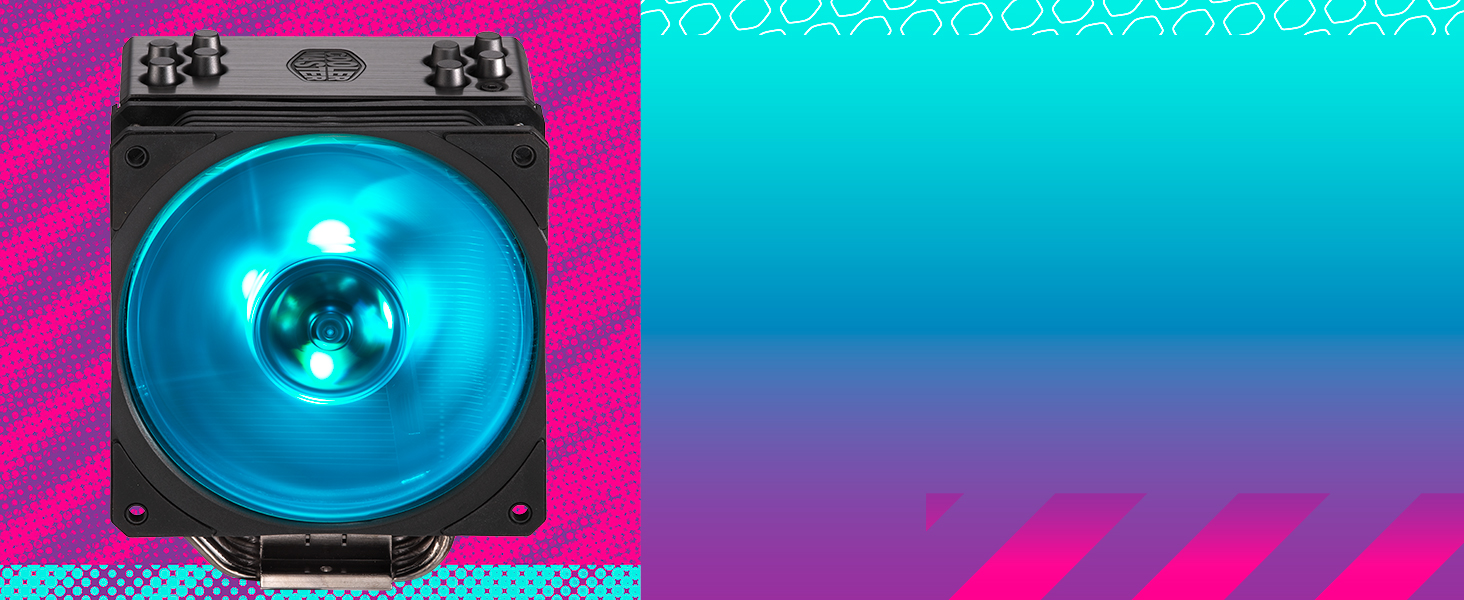 Cooler Master Hyper 212 RGB Black Ed.
CPU Air Cooling System with LGA1700 Bracket
With its sleek black design, from its brushed, anodised aluminium finish to its nickel plated fins, the Hyper 212 RGB Black Edition CPU Air Cooling System with LGA1700 includes features that maximise cooling while reducing noise. The RGB fan adds colour and lighting effects to the all-black design.
Aesthetics & Performance

RGB Sync

Integrated RGB lighting & enhanced heatsink upgrades equal outstanding aesthetics & performance.

Direct Contact Technology

Optimal Heat Dissipation

Utilises 4 copper heat pipes with a flush contact surface area for optimal heat dissipation.

Precise Airflow

Nickel-Plated Heatsink

A stacked fin array reduces airflow resistance, allowing more cool air to pass through the heatsink.

Optional Push-Pull System

SF120R RGB Fan

Synchronises with motherboard or configures with included controller; can support a secondary fan.

Includes LGA1700 Bracket

AMD & Intel Compatible

Includes versatile all-in-one mounting brackets that support Intel & AMD sockets.
1
RGB SYNC
2
OPTIMAL HEAT DISSIPATION
3
NICKEL-PLATED HEATSINK
4
SF120R RGB FAN
5
AMD & INTEL COMPATIBLE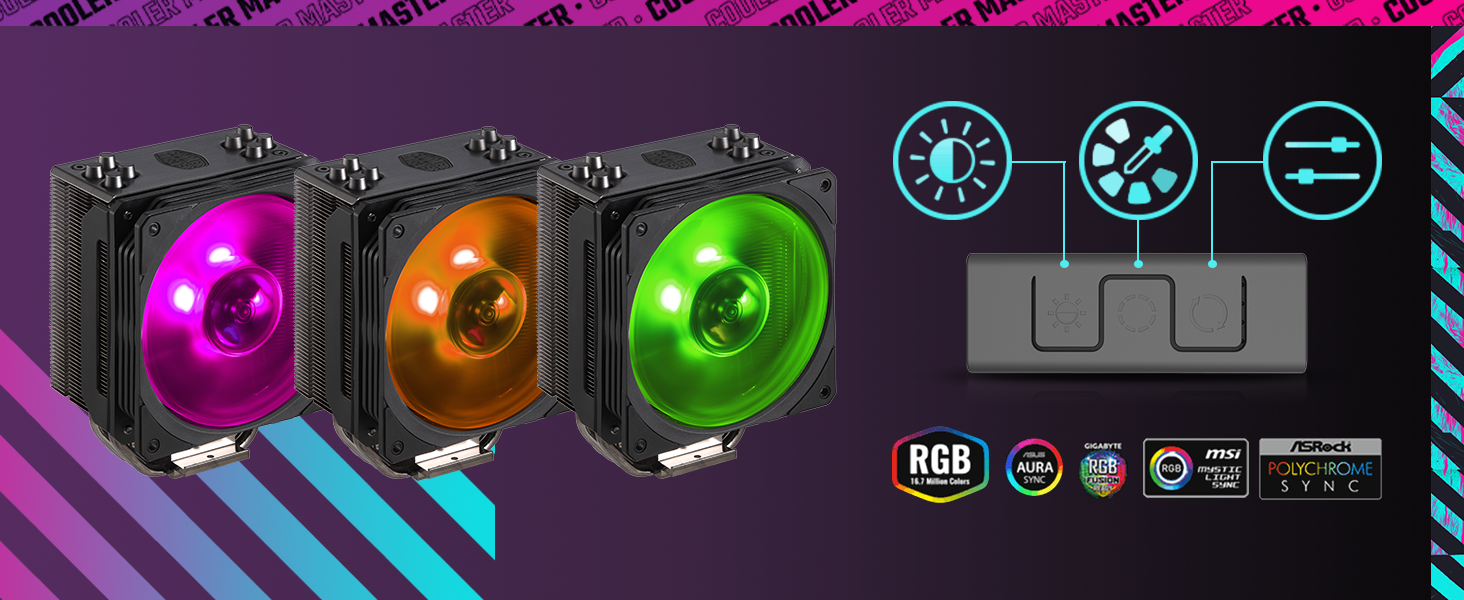 Nickel-Plated Black Heatsink

Offers superior heat radiation while providing a sleek aesthetic; stacked fin array ensures minimal air resistance.

" data-position="triggerHorizontal" />Manual or Synchronised Control

The SF120R RGB Fan synchronises with existing motherboard architecture or can be configured with the included manual controller.

" data-position="triggerHorizontal" />
Universal CPU Socket Compatibility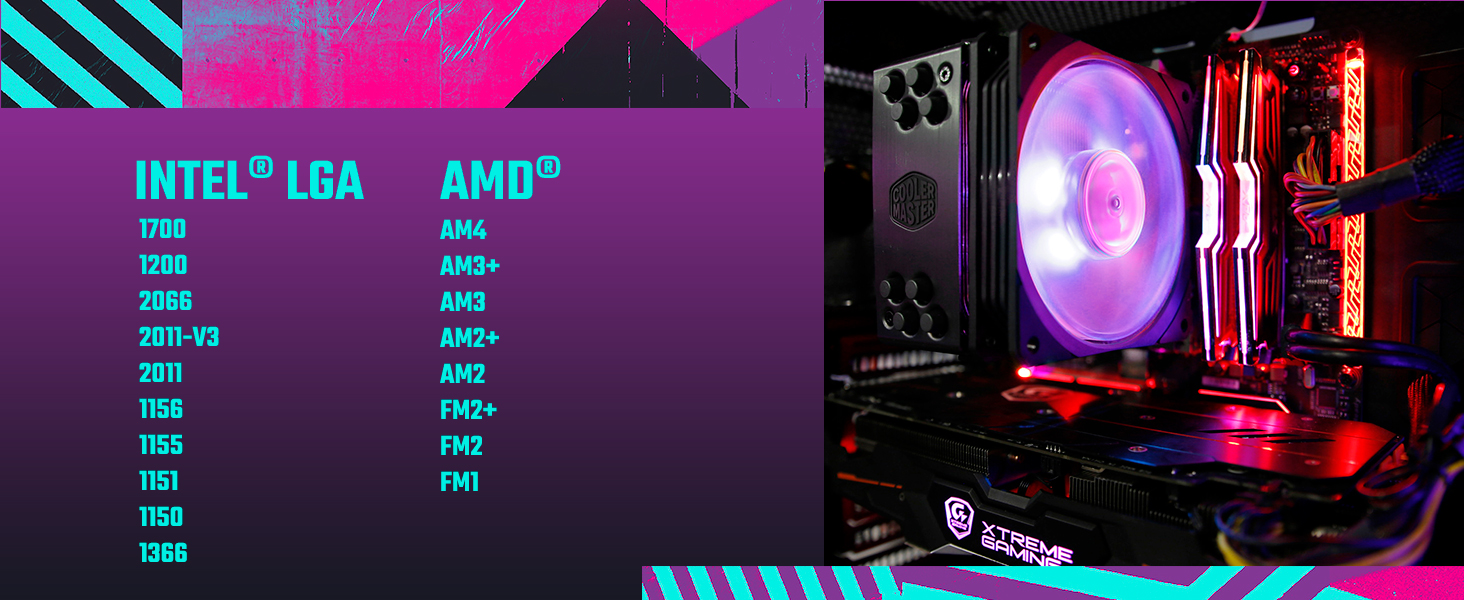 Fan Specifications
| | |
| --- | --- |
| Dimensions (L x W x H) | 120 x 120 x 25 mm (4.7 x 4.7 x 1 inch) |
| Quantity (pcs) | 1 x SF120R RGB Fan |
| Speed (RPM) | 650 ~ 2000 RPM ± 10% |
| Airflow (CFM) | 59 CFM (Max) |
| Noise Level (dBA) | 8 ~ 30 dB(A) |
| Pressure (mmH2O) | 2.1 mmH2O |
| | |
| --- | --- |
| MTTF | >160,000 hours |
| Power Connector | 4-Pin (PWM) |
| Rated Voltage (VDC) | 12 VDC |
| Rated Current (A) | 0.16 A |
| Safety Current (A) | 0.37 A |
| Power Consumption (W) | 1.92 W |
Hyper 212 CPU Air Coolers
| | | | | |
| --- | --- | --- | --- | --- |
| | Hyper 212 RGB Black Ed. | Hyper 212 Black Edition | Hyper 212 EVO V2 | Hyper 212 LED Turbo ARGB |
| Exterior Colour | Black | Black | Silver | Silver & Black |
| Dimensions (L x H x W) | 120 x 79.6 x 158.8 mm | 123 x 77 x 158.8 mm | 120 x 80 x 154 mm | 120 x 110 x 159 mm |
| Fan Dimensions (L x W x H) | 120 x 120 x 25 mm | 120 x 120 x 25 mm | 120 x 120 x 25 mm | 120 x 120 x 25 mm |
| Heatsink Material | 4 Heat Pipes / Aluminium Fins | 4 Heat Pipes / Aluminium Fins | 4 Heat Pipes / Aluminium Fins | 4 Heat Pipes / Aluminium Fins |
| Direct Contact Technology | ✔ | ✔ | ✔ | ✔ |
| LGA1700 Bracket | ✔ | ✔ | ✔ | ✘ |
| Lighting | RGB | (none) | (none) | ARGB |
| Push-Pull Configuration | Optional | Optional | Optional | Yes |
| | |
| --- | --- |
| Weight: | 872 g |
| Dimensions: | 12 x 7.96 x 15.88 cm; 872 Grams |
| Brand: | Cooler Master |
| Model: | RR-212S-20PC-R2 |
| Colour: | RGB Black |
| Batteries Included: | No |
| Manufacture: | Cooler Master |
| Dimensions: | 12 x 7.96 x 15.88 cm; 872 Grams |