AMONAX Exercise Interlocking Floor Mats, Eva Foam Mats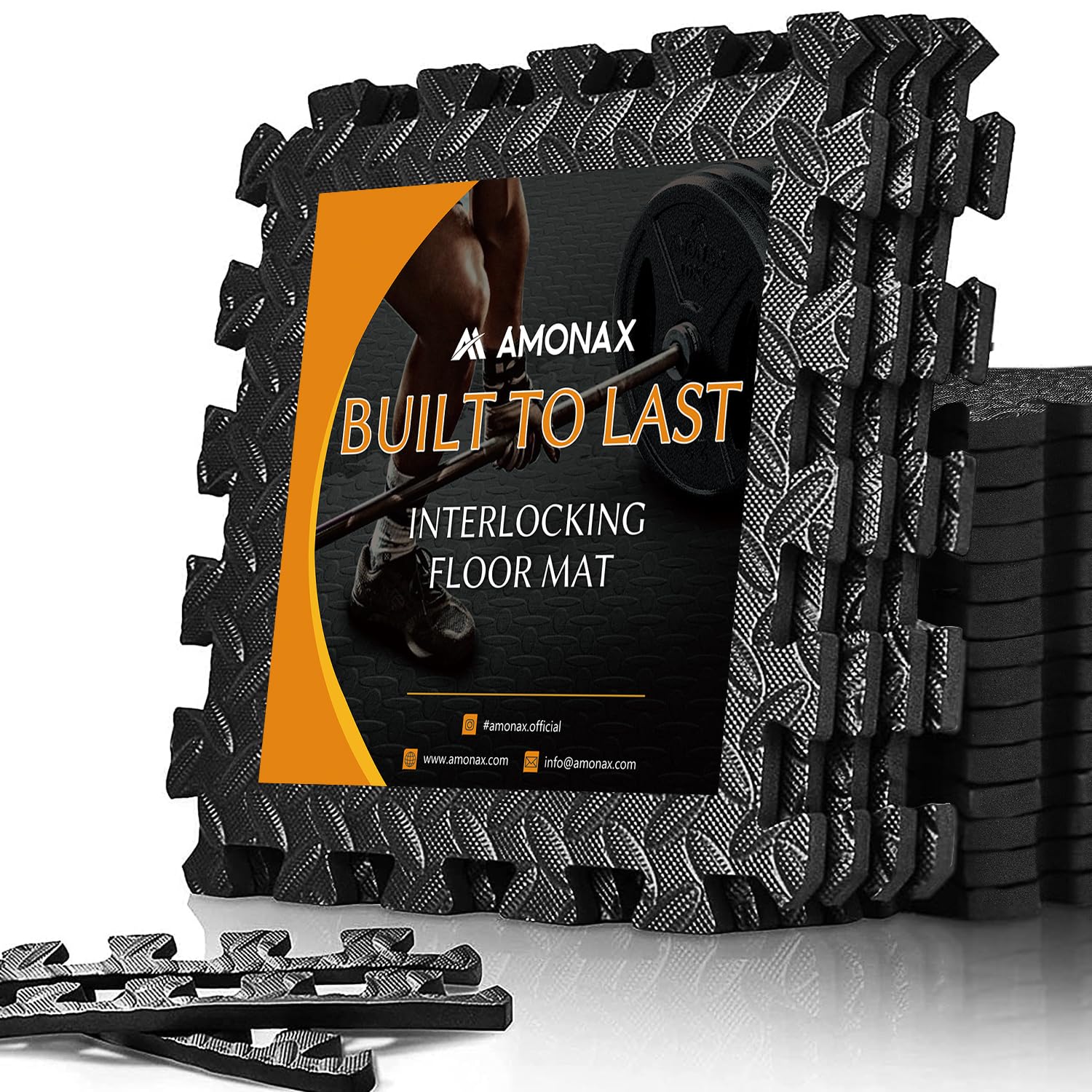 AMONAX Exercise Interlocking Floor Mats, Eva Foam Mats, Puzzle Kids Play Floor Mats for Swimming Pool, Garage Floor Tiles Fitness Exercise Equipment Mat Workout Mats for Home Gym
---
Our Mission
Our Mission

We work hard to build products that last long, aiming to bring you long-lasting fitness, happiness, and healthier relationships, as well as a positive impact in communities where we live.

Our Mission

Our mission is what drives us to do everything possible to expand both your potential and our potential.
Amonax EVA Foam Exercise Mats – The Gym Flooring Specialist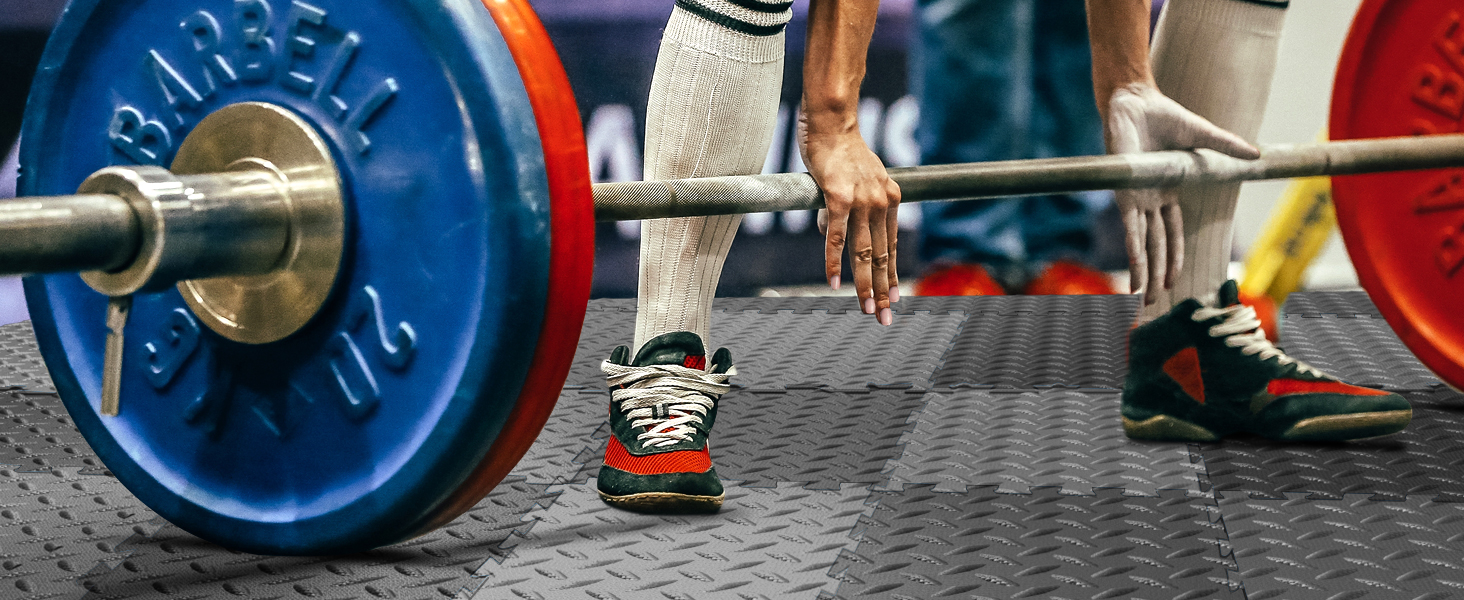 Every detail of our interlocking foam mats, from material choice to craftsmanship, is thoughtfully considered. Designed to be more than just an addition, these outdoor mats seamlessly integrate into your daily life, be it as foam mats for kids or for enhanced comfort during leisure activities.
Why Amonax foam floor mats are the right one for you?
1. Dense EVA Foam

Our Amonax fitness mats are crafted from high-density EVA foam. This provides a soft, cushioned feel with impressive elasticity that stands up resiliently even under the weight of heavy equipment.

2. Optimal Thickness for Comfort

At 1cm thick, these foam floor tiles perfectly merge the softness with the resilience for heavy-duty use. They're built to offer unparalleled comfort whether you're stretching or placing heavy items.

3. Universal Size Compatibility

Our gym mat is available in both 60x60cm and 30x30cm dimensions. These two distinct sizes can interlock seamlessly with each other, offering flexibility for tailored coverage across various spaces.

4. Easy Assembly & Customization

Our interlocking gym floor mats snap together effortlessly. Moreover, they can be cut to achieve a tailor-made fit for those unique spaces, making your flooring solution even more personalized.
5. Anti-Slip & Strong Interlock

With double-sided anti-slip technology, our gym floor tiles remain anchored during intense workouts. The robust interlocking carpet tiles design further ensures foam tiles won't shift or separate.

6. Waterproof & Easy to Clean

Crafted with advanced water-resistant properties, our foam puzzle mat repels spills and stains with proficiency. The surface composition allows for simple wipe-downs, facilitating swift cleaning.

7. Sustainable & Odor-Free

Made with eco-conscious materials and practices, our foam playmat provide both a nod to sustainability and an odor-free atmosphere for enhanced indoor comfort.
1. For the Fitness Enthusiasts

Protect your floors and reduce noise from heavy workout equipment. The Amonax exercise mat for home acts as a shield, absorbing both impact and sound for a peaceful and effective exercise session.

2. Elevate Your Garage Fitness Space

Transform your garage into the ultimate home gym or multipurpose area. Our garage floor mats cushion typical concrete floors, and stabilize fitness equipment, enhancing your training experience.

3. The Perfect Yoga & Pilates Companion

Dive into yoga or challenge yourself in Pilates with a large thick exercise mat that offers the ideal blend of softness and stability. They provide grip and cushioning, setting the stage for exercise.
4. Safe Playtime for Kids

Amonax floor mats for children provide gentle cushioning, safeguarding children against playful tumbles. For your pets, these gym tiles serve as a cozy resting spot, creating an inviting environment.

5. For Poolside & Hot Tub Floor Protector

Step out of the water onto our non slip flooring hot tub mats for outdoors. They provide stability and cushioning that elevates the comfort of your swimming pool floor protector or hot tub base area.

6. Defense Against Chilling Surfaces

With Amonax foam flooring mats, experience the warmth and comfort of superior insulation. They act as a thermal barrier, guarding against cold surfaces and creating a consistently cozy ambiance.
Tailored Layouts with Visual Guides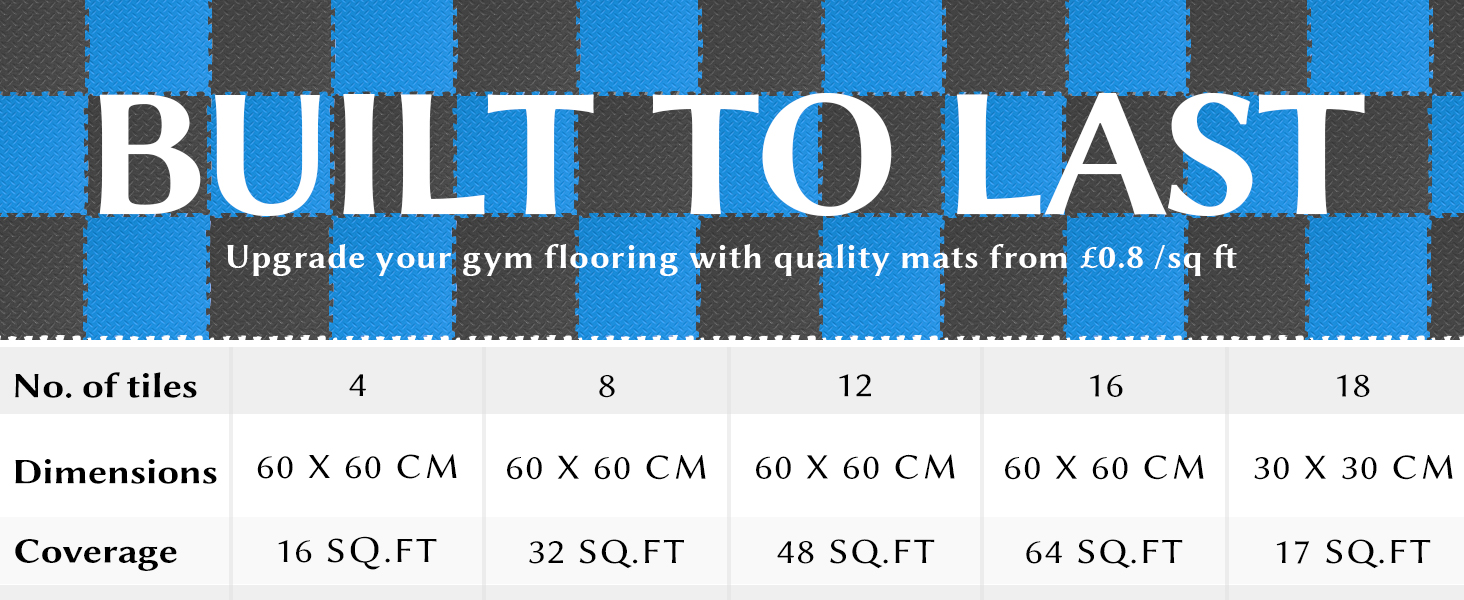 Discover the versatility of Amonax outdoor floor mat with our detailed imagery. Compare different tile configurations and sizes at a glance. Our interlocking foam tiles allow endless combinations. With each tile, every square centimeter plays its part, making optimal functionality.
| | |
| --- | --- |
| Weight: | 1.47 kg |
| Dimensions: | 30 x 30 x 30 cm; 1.47 Kilograms |
| Brand: | Amonax |
| Model: | 163900124 |
| Colour: | Black |
| Dimensions: | 30 x 30 x 30 cm; 1.47 Kilograms |