Nilfisk Core 125 bar High Pressure Washer for Home, Garden and Car blue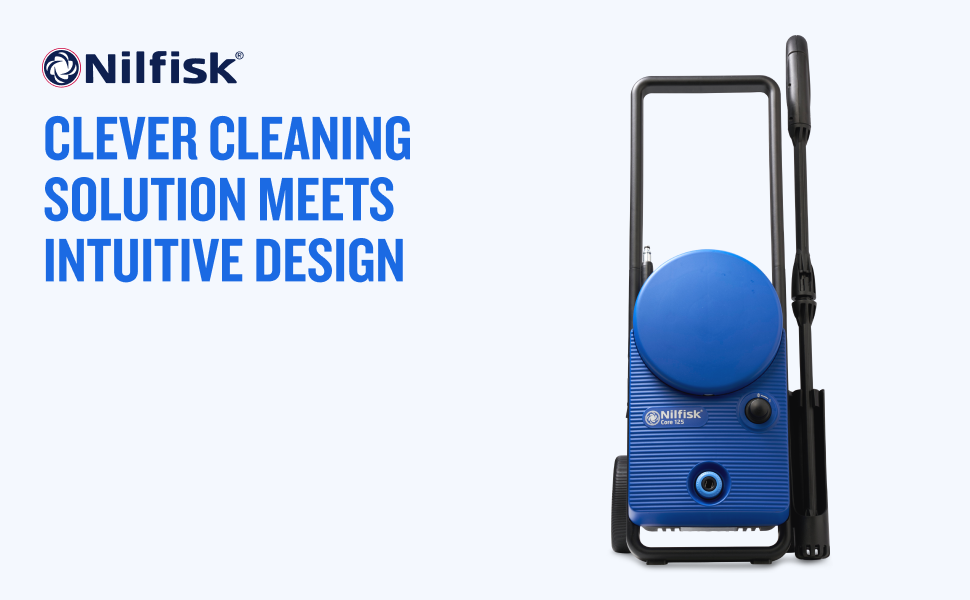 ---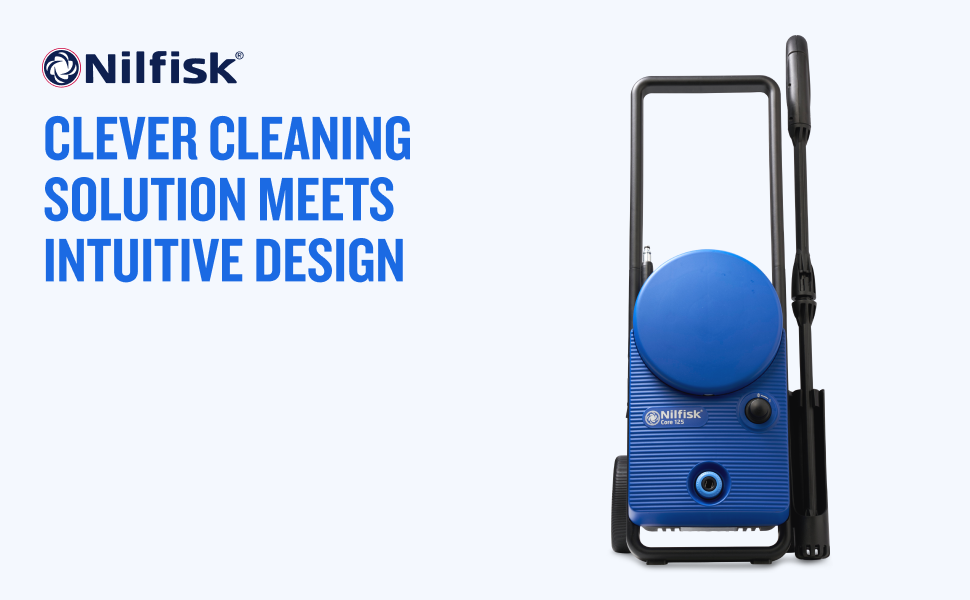 Clean Design & Powerful Core
The Nilfisk Core 125 bar High Pressure Washer is ideal for basic household cleaning and tasks. The Nilfisk Core pressure washer series has been redesigned with users in mind. This Nilfisk pressure washer delivers on quality and lightweight portability. Enjoy more simple cleaning around your house, patio, garage, and garden. This power washer conveniently removes dirt, grime, algae, mildew, moss, mud, and even loose paint from a variety of surfaces.
Rated for 125 bar max pressure and 1400-watt power.

Handles household cleaning tasks on surfaces up to 35 m2/ hour.

Car-washing and all-around use: Great for household tasks, such as the car park, garage floors, decks, patios, masonry, home exteriors (vinyl, tile, brick, etc.), fencing, cars, trucks, autos, outdoor furniture, bins, garden sheds, motorbikes, bicycles, boats, trailers, and more.

Long-life metal pump for a powerful, durable core.

Universal motor: Each Nilfisk Core 125 bar High Pressure Washer features an optimised engine to give efficiency and power to any home cleaning task.

5-metre hose: Ultra-flexible, long hose eases both handling and storage.

Internal pocket storage: Convenient compartment to store your hose.

Manoeuvre easily: Built-in trolley, extra on-board storage for accessories, and compact design.
This powerful Nilfisk high pressure washer with power control for adjustable water pressure easily handles your cleaning tasks.
Convenient Features
Versatile Cleaning

Permanent user guidance, right on the machine, shows you which nozzle and accessory to use for your exact cleaning needs.

Includes two nozzles with easy, Push & Lock installation:

Rough pressure nozzle

Gentle pressure nozzle

Efficient and Easy to Use

The long-life metal pump provides the power to clean everything from soft and sensitive surfaces to blasting away ingrained dirt up to 35 m2/hour.

Automatic start/stop function

Intuitive design

Convenient Storage

The Nilfisk Core 125 manoeuvres easily around your home and garden with trolley wheels and a clever hose pocket for storing the 5-metre hose.

High mobility trolley wheels

Compact size stores easily
Nilfisk Core 125 bar High Pressure Washer Specifications
| | |
| --- | --- |
| Pump Pressure | Max 125 bar / Max 12.5 MPa |
| Rated Power | 1.4kW |
| Voltage/phase/freq/current | 220 – 240 / 1~/ 50-60 / 6.5 |
| Water flow Qmax/Qiec (l/h) | 438 / 312 |
| Mains power cable length | 5m |
| | |
| --- | --- |
| Hose length | 5m |
| Max inlet temperature | 40°C |
| Length x width x height | 71.7 x 29 x 30cm |
| Weight | 6.4kg |
| Lance and Spray Storage | Yes |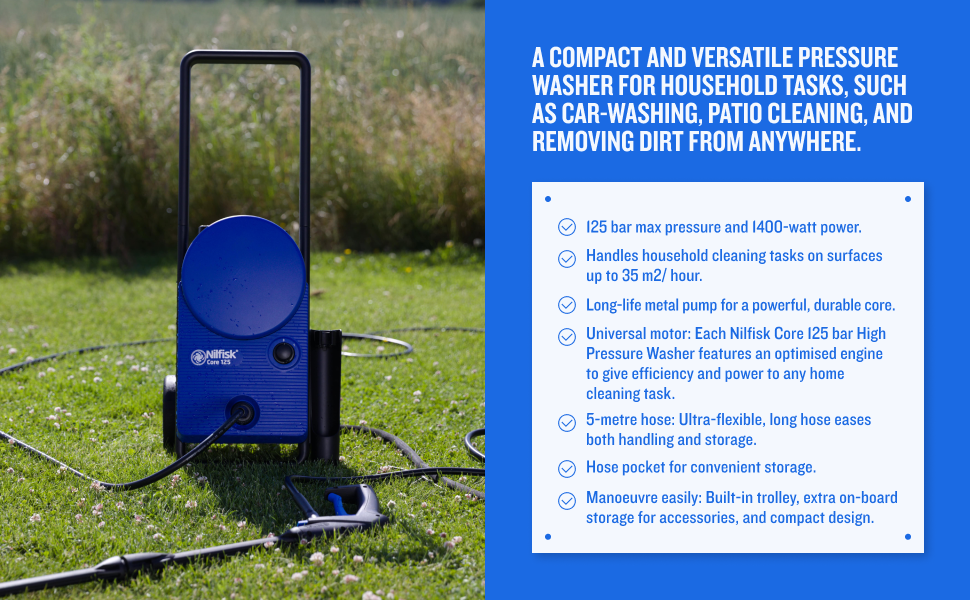 About Nilfisk
A leading global provider of professional cleaning products and services.
Nilfisk was founded on a vision of producing and selling products of the highest quality worldwide. For more than a hundred years, Nilfisk has adapted to the changing needs of markets and customers with innovative products and solutions. With a global sales force and proven sales channels, we have established strong and valuable customer relations and partnerships across the world and we strive to be at the forefront of technological advancement to drive future customer needs.
We enable sustainable cleaning worldwide to improve quality of life.

We make our customers clean smarter, with clear vision and intelligent cleaning solutions.

We embrace the future of opportunities and harvest the benefits of new technology.
Today, Nilfisk offers an extensive range of premium cleaning products and a trusted aftermarket offering to the professional market. Our main product lines are floor-care equipment, vacuum cleaners, and high-pressure washers. Nilfisk delivers a wide range of domestic vacuum cleaners and high pressure washers to consumers worldwide.
Max. pump pressure

110 bar

125 bar

130 bar

140 bar

140 bar

180 bar

Operating pump pressure

80 bar

85 bar

95 bar

100 bar

100 bar

140 bar

Max. water flow rate

440 litres/hour

438 litres/hour

462 litres/hour

474 litres/hour

474 litres/hour

610 litres/hour

Engine power

1400 watts

1400 watts

1500 watts

1800 watts

1800 watts

2900 watts

Weight

6kg

6.4kg

6.6kg

8.7kg

8.7kg

26.8kg

Hose length

5m

6m

6m

6m

8m

10m

Motor type

Universal

Universal

Universal

Ultra Torque

Ultra Torque

Induction
| | |
| --- | --- |
| Dimensions: | 71.7 x 29 x 30 cm; 7.02 Kilograms |
| Model: | 128471283 |
| Part: | 128471283 |
| Manufacture: | Nilfisk |