Greenworks Hedge Trimmer 40V 61cm Cutting Length 27mm Tooth Spacing Adjustable Handle without Battery and Charger G40HT

---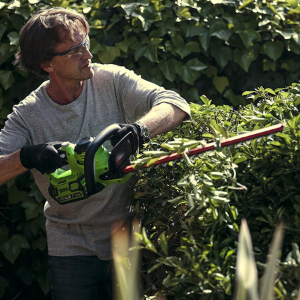 40 Volt battery hedge trimmer
For every passionate gardener who values a well-kept hedge and well-formed bushes a hedge trimmer is indispensable. With only 2.8kg it is a real lightweight. This fact and an adjustable front handle make it particularly ergonomic and pleasant to use. Thanks to a rotating rear handle, clipping along the sides of hedges and other objects is a breeze. Our cordless hedge trimmer also scores with its Anti Jam function: if the trimmer gets stuck in a branch, the motor automatically reverses and releases the tool. And all of this without any negative impact on the environment! The powerful 40V battery produces no direct emissions or unpleasant exhaust fumes. This also means tat you can use the Greenworks hedge trimmer free from any extension cables and trip hazards in every corner of your garden.
Convenient and efficient: With the powerful dual blades you can effortlessly trim your hedges and bushes. Our rechargeable lithium-ion batteries are not only good for the environment but also for your wallet: Greenworks 40V batteries can be used for any 40V Greenworks tool, whether in the workshop or in the garden.
Your neighbours will thank you for it: thanks to the hedge trimmer's battery drive, you will enjoy handling with low vibrations and without unpleasant noise. So you can do your gardening work without disturbing your neighbours.
Technical data
61 cm Blade length

27 mm Blade distance

Dual Action Blades System

40V Li-Ion battery (not included)

Max. speed 3000 rpm

2,8 kg weight
Adjustable handle

The adjustable handle of the battery hedge trimmer makes it wonderfully easy to cut along the sides of hedges and bushes. Without any unpleasant dislocations.

Easy to start

Just get going! The 40V battery can be quickly and easily attached to the hedge trimmer. No tangled cables, no tripping hazards, no complicated setup. Every Greenworks 40V tool can be started immediately and easily with the battery.

Lightweight

With a weight of only 2.8 kg, our Greenworks G40HT61 hedge trimmer is a real lightweight. Its pleasant handling makes it the perfect choice for every hobby gardener.

Anti Jam-function

When clipping hedges the work is often interrupted by the shears getting stuck in branches. The Anti Jam-function puts an end to this. If the shears get caught in a branch, the motor automatically starts an inversion function and thus frees the shears from the clutches of the bushes. Do not let yourself be held back by thick thicket!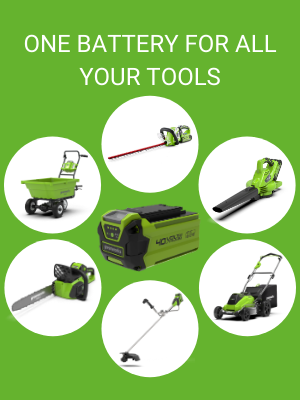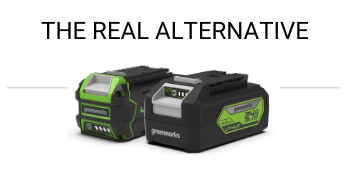 The 5 most important advantages of 40V batteries
1. Powerful performance without noise, smells, vibration or pollution
2. Ready to use immediately, even after long storage.
3. Never buy petrol and refuel again.
4. No maintenance required, as no spark plug, oil or air filter.
5. Cordless, therefore no cable tangle and no tripping hazard.
One battery for all 40V devices from Greenworks Tools
Compatible with a wide range of products for workshop and garden
Greenworks lithium-ion batteries deliver full power when used with Greenworks Tools. You can use the battery for all your 40V devices, whether for garden or workshop. So you not only protect the environment, but also your wallet. Both 2Ah and 4Ah batteries can be released quickly into the handle of each piece of machinery. Greenworks has been developing batteries and motors together since the beginning and through their experience ensure you get the best results.
Package contents:
1 40V Greenworks G40HT61 battery hedge trimmer

1 instruction manual
| | |
| --- | --- |
| Weight: | 2.8 kg |
| Size: | 40V |
| Dimensions: | 24.5 x 22.2 x 99.5 cm; 2.8 Kilograms |
| Model: | 6952909008837 |
| Part: | 6952909008837 |
| Colour: | Green |
| Pack Quantity: | 1 |
| Batteries Required: | Yes |
| Batteries Included: | No |
| Manufacture: | Greenworks |
| Colour: | Green |
| Quantity: | 1 |
| Size: | 40V |