901 PRO Remote Control Car for Adults and Kids Brushless RC Car 4wd 1:16 Scale 62 km/h High Speed RC Monster Truck with LED & Transparent DIY Car Shell(2 Batteries)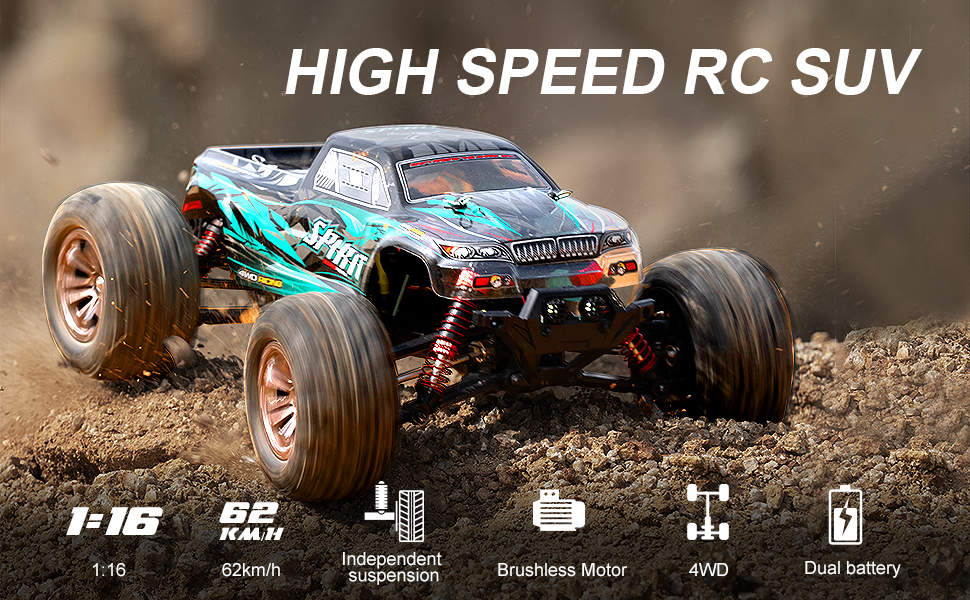 ---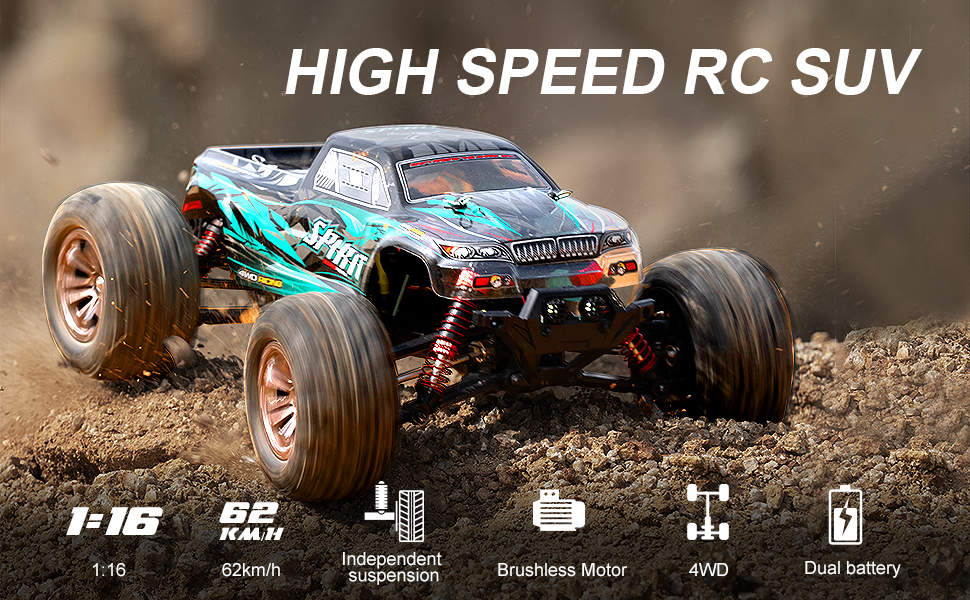 4WD Brushless Remote Control Car 1:16 Scale 62km/h
Equipped with a excellent brushless motor, this 1:16 Scale rc car has the characteristics of higher power, lower interference, lower noise and lower energy consumption than the brushed one. It can easily drive over a variety of terrains, such as beaches, gravel, lawn and other rugged roads, etc. It is responsive and can respond quickly to your instructions. The maximum speed of this remote control truck can reach 62km/h. Tips: The car has a certain impact force when driving at high speed, in order to protect the safety of life and property, please avoid crowds, pets and fragile or valuable items when driving.
Powerful brushless motor

Because of the powerful brushless motor, this rc car can convert electrical energy into kinetic energy to the greatest extent, reduce energy loss. Its maximum speed can reach 62km/m. The brushless motor can also reduce the noise of the remote control car when driving, making your entire racing more comfortable and enjoyable.

40 Minutes Racing Fun without Interruption

The rc car is powered by a well-designed battery pack. In order to let you have more fun, there are two batteries in the package. Each battery can last for 20 minutes and only needs to be charged for 1 hour. Using the parallel plug, you can use two batteries at the same time to extend your game time to 40 minutes without interruption. More convenient and useful is that there are two charging cables in the package, you can charge two batteries at the same time. That is to say, to get 40 minutes of game time, you only need to charge for 1 hour!

Powerful shock absorption system

When driving on rugged terrain or falling from a high place, the 4 powerful shock absorbers can quickly absorb the vibration caused by the bumps, so that the remote control car can continue to drive smoothly. The powerful shock absorption system greatly improve the stability of the remote control car.
High quality rubber hollow tires

The specially designed tire texture makes the rc car have better abrasion resistance and maintain better grip when racing. The soft, hollow rubber wheels are extremely robust, can provide better cushioning capacity during impact, allow the car to drive smoothly on any terrains.

LED Lights

Made of high-quality material, the LED Lights are durable and useful. They give an extra effect to your rc truck.They allow remote control car to run smoothly in dark environments.

Auxiliary wheel

The remote control car is equipped with a auxiliary wheel at the rear. When the remote control car is climbing a steep terrain, it can prevent the remote control car from overturning, avoid strong impact on the car shell, protect the internal components from damage.
Package list
1 x RC car

1 x Remote control

2 x Batteries

2 x USB Charger cable

1 x Manual

1 x Double Battery Connector

1 * DIY Graffiti Transparent Car Shell
4WD High Speed Brushless Remote Control Car 1:16 Scale
Product Parameter
Maximum Speed: 62km/h ( It will be different under different terrains and different battery states.)
Car Size: 27×23.5×13 cm
Package Size: 24.8×36.1×14.6 cm
Car Battery: 7.4V 1000mAh Li-ion
Usage Time: 20 minutes (1 battery) 40 minutes (2 batteries)
Charging Time: 1 hour
Frequency: 2.4 GHz
Remote Control Distance: 60-80 M
Remote Control Battery: "AA" × 3 (not included)
| | |
| --- | --- |
| Dimensions: | 27 x 23.5 x 13 cm; 1.7 Kilograms |
| Material: | Acrylonitrile Butadiene Styrene, Polyvinyl Chloride |
| Colour: | Green |
| Batteries Required: | Yes |
| Batteries Included: | Yes |
| Colour: | Green |
| Material: | Acrylonitrile Butadiene Styrene, Polyvinyl Chloride |