Blueair Blue Pure 221 Air Purifier With Combination Filter For Rooms Up To 50 m² HEPASilent Technology Removes Pollen, Dust, Mould, Bacteria, Viruses Activated Carbon Reduces VOCs, Odours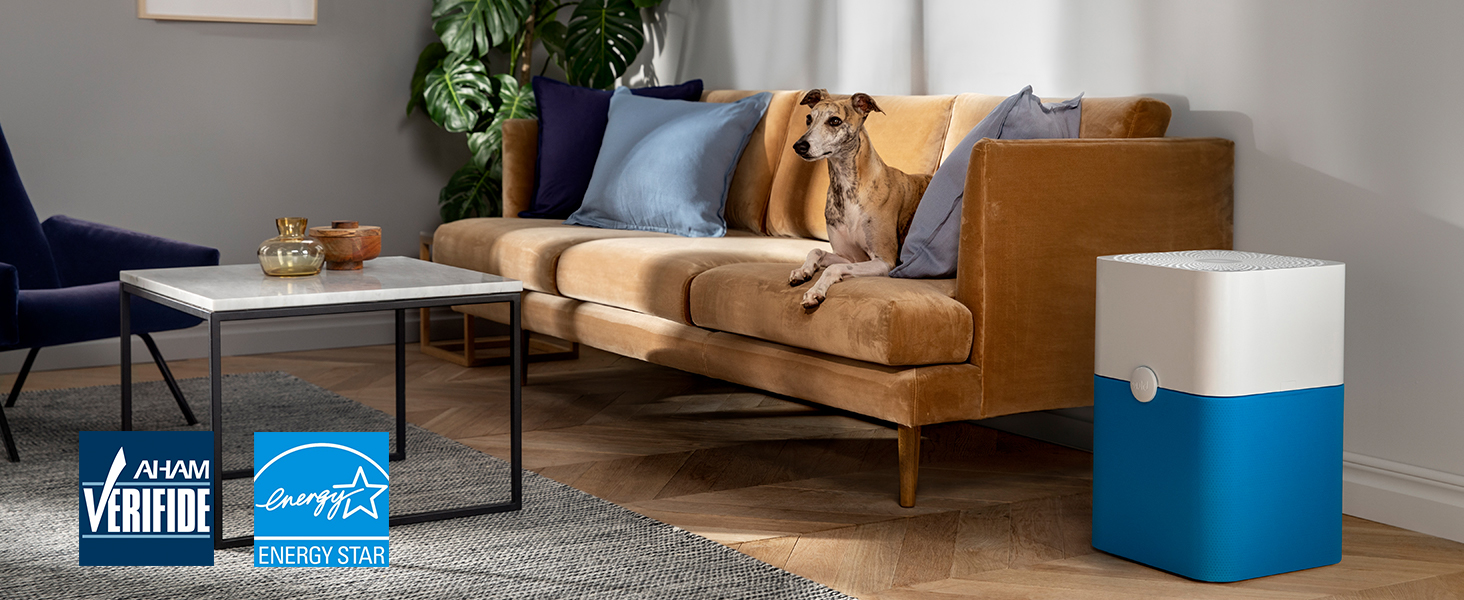 ---
Designed for large rooms​

Filters the air at a rate of approx. 5x an hour (or about every 12 minutes) in a 50m² room to effectively lower particle levels in your dining room, kitchen or open plan living spaces.

Performance you can trust

Independently evaluated for performance by the AHAM Verifide Program for room air cleaners with a Clean Air Delivery Rate (CADR) of 560 m³/h smoke, 590 m³/h pollen, and 590 m³/h dust in 50m² rooms.
Washable fabric pre-filter​

The fabric pre-filter offers the first layer of protection, catching larger particles from the air.

Remove 99.97% of airborne particles

Electrostatic filtration works with the particle filter to remove 99.97% of airborne particles.​

Charged particles stick to filter media

The particle filter captures airborne germs and allergens like pollen, dust, pet dander, and more.

Activated carbon layer removes light odours

A layer of activated carbon traps light household odours from pets, cooking, and smoking.​
Change colour in seconds

Match to your space with multiple fabric pre-filter colours. Pre-filters in Diva Blue come standard, other colours Dark Shadow, Lunar Rock, Buff Yellow, and Crystal Pink are available separately.​
One-button control

Forget about adjusting settings and knobs – a single button controls it all and lets you know when it's time to replace the filter. The built-in warning system glows red when it's time for a change.​

Simple to place

Unlike some air purifiers with strict rules for placement, Blue models use a 360-degree air intake, meaning you can place it almost anywhere in the room without compromising performance.​
Compare Blue family air purifiers
| | | | | |
| --- | --- | --- | --- | --- |
| | Blue Pure 221 | Blue Pure 411 | Blue 3210 | |
| | 50 m2 | 15 m2 | 17 m2 | — |
| | 590 m3 per hour | 180 m3 per hour | 210 m3 per hour | — |
| | 590 m3 per hour | 200 m3 per hour | 181 m3 per hour | — |
| | 590 m3 per hour | 200 m3 per hour | 163 m3 per hour | — |
| | 5 | 5 | 5 | — |
| | ✘ | ✘ | ✔ | ✔ |
| | ✘ | ✘ | ✔ | ✔ |
| | ✘ | ✘ | ✔ | ✔ |
| | 31 – 56 dB(A) | 17 – 46 dB(A) | 18 – 48 dB(A) | — |
| | 30 – 61 W | 1.5 – 10 W | 2 – 10 W | — |
| | 516x330x330 mm (20.3x13x13in) | 424x203x203mm (16.7x8x8 in) | 425x200x200mm(16.7×7.9×7.9in) | — |
| | 7 kg (15.4 lb) | 2 kg (3 lbs) | 1.7 kg (3.75 lbs) | — |
| | |
| --- | --- |
| Weight: | 9.7 kg |
| Dimensions: | 33 x 33 x 52.2 cm; 9.7 Kilograms |
| Model: | 102937 |
| Part: | 102937 |
| Pack Quantity: | 1 |
| Batteries Required: | No |
| Manufacture: | Blueair |
| Quantity: | 1 |