RENPHO Massage Device for Legs and Feet Circulation, Electric, Air Compression for Massage and Relaxation, Calf, Feet, Thigh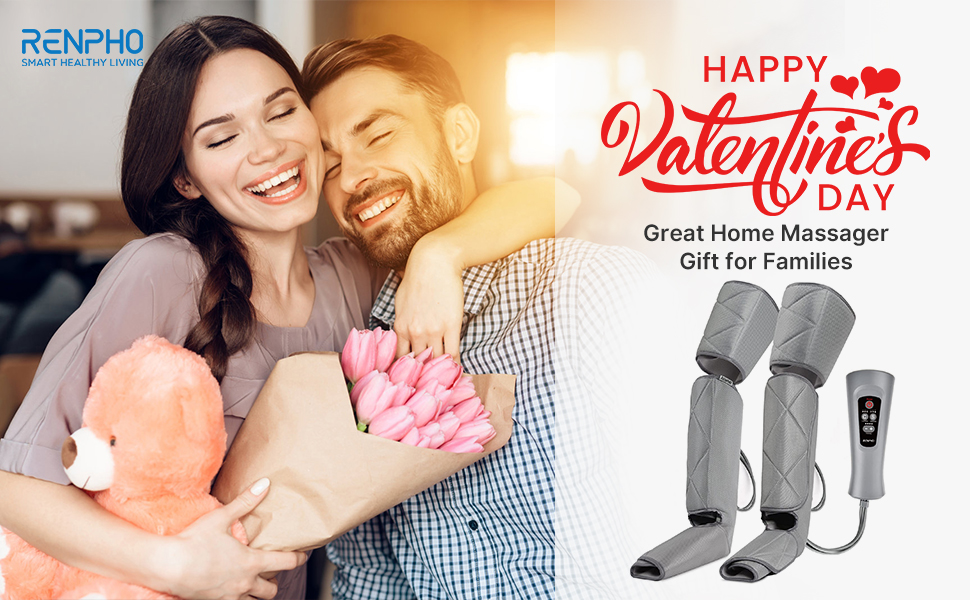 ---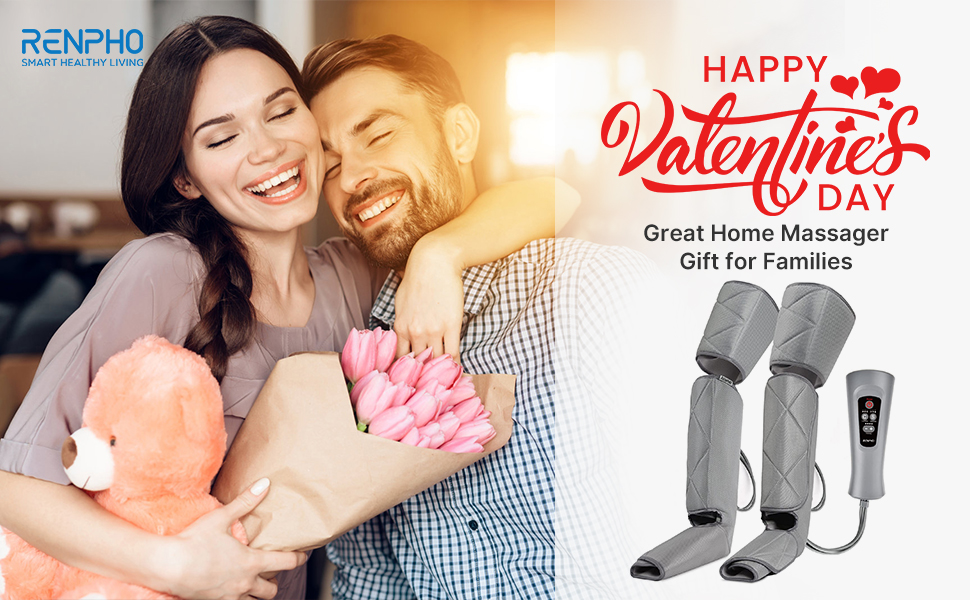 NOTE BEFORE PURCHASING!!!
This is a new way to relax your entire legs, and it doesn't similar to traditional massager that rollers to work.
This leg massager is simulated hands compressing and squeezing, it helps to relax our legs. It doesn't vibrate and there are no rollers inside.
Please consult a doctor if you are pregnant, suffer from skin infections, use a pacemaker, or have another serious medical condition.
Why do you need to have it?
If you stand or sit for long periods of time, are unable to get exercise, or are suffering from soreness from athletic training, you may suffer from leg fatigue.

The RENPHO Leg Massager can help you enjoy short-term relaxation to tired legs.

Using it 20 minutes once or twice daily can relax muscle fatigue, and exercise recovery. Multiple massage modes can give you different massage experiences, while the portable design allows you to enjoy it anywhere anytime. Saves time and money!
What can Air compression leg massager do for you?
1. It can compress your muscle and improve blood circulation when inflating, helping to reduce swelling, leg edema, tension, varicose veins, restless leg syndrome, and reduce fatigue and soreness, and promote exercise recovery.
2. 3*2 airbags deliver an optimal massage experience from feet to thighs. Relax your entire legs and reduce edema and soreness.
3. 6 modes including 3 massage combine areas and 3 massage separate areas and 4 intensities can be customized to your preference.
4. The thigh and calf wraps can detach from each other and be used separately. Thigh wrap can massage your thighs or arms individually through using "Mode T" .
5. Wraps are adjustable to meet most leg sizes. You can enjoy this leg massage machine to share with your family.
6. A perfect gift to your grandparent, family, and friend on Christmas.
Massage Way: Inflating and deflating cycle
Massage Body Area: Feet, Calves, Thighs, Arm
Massage Modes: 6 kinds different mode
Massage Intensity: 4 Level — from low to high
Suitable for who to use
1. People who suffer from varicose veins, restless leg syndrome, edema, swelling, or poor circulation, and cold legs.
2. People who stand or sit for long periods of time and suffer from tired, aching, and swollen feet
3. Active people in need of exercise recovery, like biking, dancing, climbing, and doing Yoga
4. Middle-aged and elderly people
Multiple mode and massage intensity to meet your needs

C 1: Massage full legs

C 2: Massage feet and calves

C 3: Massage feet, calves, thighs by sequence

Separate Massage Mode

T: Thighs massage

C: Calves massage

F: Feet massage

MASSAGE INTENSITIES: 4 kinds of intensity.

You can choose surely find the right combination of mode and intensity for your preference.

20 Min Timer Safety Design

The 20-minute auto-shut-off timer prevents the leg massager from overheating.

This feature was developed with safety in mind, especially for elderly users who may fall asleep with the device on.

Important Tips to Note

Please consult a doctor if you are pregnant, suffer from skin infections, high blood pressure, use a pacemaker or another serious medical condition.

Adjusts to fit most leg sizes

The leg massager can fit most people. You just need to adjust leg wraps size via the velcro and make it fit perfectly on yours.

The recommendation size for better reference.

1. Fit the feet size between 7.9inch-13.8inch in circumference.

2. Fit the calves size between 11.8inch-19.7inch in circumference.

3. Fit the thighs size between 11.8inch-26.3inch in circumference.
1. Find the marks on the wraps and hoses interface to ensure the corresponding wraps for Left and Right legs.
2. It is recommended to leave a gap available to put 4 fingers in it, or you will feel too tight or too powerful.
3. Choose the lower intensity if you feel powerful or tight.
Brand

RENPHO

RENPHO

RENPHO

RENPHO

RENPHO

RENPHO

Heat

✓

2 Heating Modes

2 Heating Modes

Mode

3

3

5

6

3

3

Intensity

3

3

3

3

3

3

Airbag

2

4

4

6

1

4

Power source

Wireless/Battery Powered

Corded Electric

Corded Electric

Corded Electric

Wireless/Battery Powered

Corded Electric

Massage Area

Calf/Arm

Calf/Foot

Calf/Foot

Thigh/Calf/Foot

Calf/Arm

Thigh/Calf/Foot/Arm

Material

Mixed fabric

Polyester

Polyester

Polyester

Mixed fabric

Polyester
| | |
| --- | --- |
| Weight: | 1.56 kg |
| Dimensions: | 41 x 25 x 21 cm; 1.56 Kilograms |
| Brand: | RENPHO |
| Model: | RF-ALM070 |