Russell Hobbs RHM2574 Digital Combination Microwave, 25 Litre, Stainless Steel [Energy Class E]

---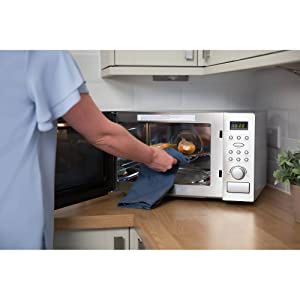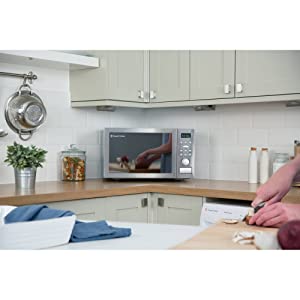 About the RHM2574
Cooking meals for family and friends or reheating large plates of food becomes simple and easy with 900 watts of microwave power and 10 auto cook menus.
The RHM2574 combination microwave has a 31.5cm wide removable glass turntable and a stainless steel interior for easy cleaning. It also has weight and time defrost settings, a child safety lock and a simple, functional control panel; including clock and digital timer.
It comes complete with a grill rack.
Multi-functional Cooking
The combination aspect enables you to combine microwave energy, a grill, and convection heating (fan assisted) so you can heat, roast, crisp and brown.
This makes the microwave ideal for cooking lasagnes, pizzas, baked potatoes and cottage pies.
The true fan assisted oven acts exactly the same as a conventional oven, which gives you the option of an extra cooking facility for large dinner parties and family gatherings.
Avoiding Mishaps
To avoid any microwave mishaps it is recommended to take extra care with the following:
Low moisture foods (eg. cereals, bagels, dried pasta, pulses and chocolate)
– These must be cooked on a low power level for a very short length of time, or preferably not at all.
High sugar content foods (eg. jams, syrups)
– These foods can become easily 'super-heated' when cooked in a microwave oven.
Foods containing alcohol
– Foods with an alcohol content must not be cooked in a microwave as they could ignite.
Foods with a membrane or outer skin (eg. fruits, sausages, potatoes)
– Food with a sealed or none porous skin must be pierced to allow pressure and steam to escape
| | |
| --- | --- |
| Weight: | 20 kg |
| Dimensions: | 49.8 x 51.3 x 30.5 cm; 20 Kilograms |
| Brand: | Russell Hobbs |
| Part: | RHM2574 |
| Colour: | Stainless Steel |
| Batteries Required: | No |
| Batteries Included: | No |
| Colour: | Stainless Steel |
| Dimensions: | 49.8 x 51.3 x 30.5 cm; 20 Kilograms |