Greenworks Battery Tall Probe G24PS20 (Li-Ion 24V 20cm sword length 6,7m/s chain speed up to 280cm aluminium bar 3-piece without battery and charger)

---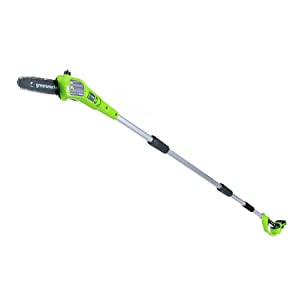 24 Volt battery-powered pole pruner
Make your life easier! With the 24V Greenworks battery-powered high pruner, you can safely cut your branches from the ground. With the aluminium telescopic pole that can be extended variably up to 2.40m, even higher branches can be reached effortlessly. With a chain length of 20cm and a chain speed of 6.67m/s, the G24PS20 high pruner will get you through your gardening work efficiently and comfortably. Even transport is effortless thanks to the shaft that can be dismantled into 3 parts.
In addition to a beautiful garden, the pole pruner also gives you a clear conscience: Due to the battery operation, there are no direct emissions or dangerous exhaust fumes. Enjoy your gardening without annoying noise and with low vibration. Use the pole pruner in every corner of your garden, without the need for impractical extension cords.
By the way, our rechargeable lithium-ion batteries not only protect the environment, but also your wallet: Greenworks 24V batteries can be used for any 24V Greenworks tool, whether in the workshop or in the garden. No matter which 24V tool from Greenworks, the battery can be attached quickly and easily.
Technical data
Maximum pole length 2.40m

Cutting speed 6.67m/s

24 V Li-Ion battery (not included in delivery)

Weight 3.5kg (without battery)
Work comfortably from the ground

Thanks to the practical telescopic shaft with a length of up to 2.40m, you can effortlessly cut higher branches. It can be dismantled into 3 parts for easy transport and space-saving storage. Save yourself dangerous work on ladders in the future and work comfortably from the ground with the high pruner.

Powerful

Our high pruner with 20cm long robust blade scores with a chain with automatic oiling. This enables trouble-free operation and contributes to the longevity of the tool. Work carefree and smoothly. The chain can also be changed effortlessly and without additional tools.

Comfortable and light

The practical delimber is equipped with an ergonomically designed rubber-coated handle for more control when sawing. A shoulder strap can be attached for added comfort. The weight of only 3.5kg without battery is particularly advantageous for longer work with outstretched arms. You will notice the difference!

Easy transport and perfect storage

The three-part foldable shaft of the battery-powered pruning tool makes it easy to store in the garage or workshop. Put an end to unwieldy garden tools! Keep your garage tidy and enjoy the space-saving folding technology during transport.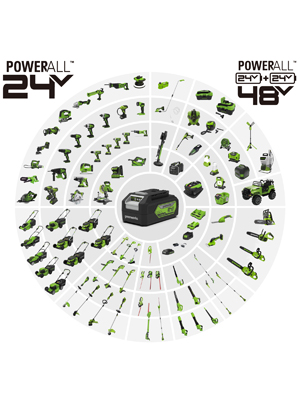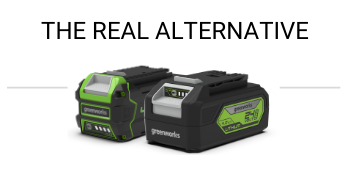 The 5 most important advantages of 24V batteries
1. Powerful performance without noise, smells, vibration or pollution
2. Ready to use immediately, even after long storage.
3. Never buy petrol and refuel again.
4. No maintenance required, as no spark plug, oil or air filter.
5. Cordless, therefore no cable tangle and no tripping hazard.
One battery for all 24V devices from Greenworks Tools
Compatible with a wide range of products for workshop and garden
Greenworks lithium-ion batteries deliver full power when used with Greenworks Tools. The 24V battery has 20% more capacity than batteries with 18V or 20V. You can use it for all your 24V tools, whether for garden or workshop so not only do you conserve resources, but also protect your wallet. Both batteries can be released quickly and effortlessly into the handle of each piece of machinery.
1 x 24V Greenworks G24PS20 Battery-powered pole pruner

1 x instruction manual
| | |
| --- | --- |
| Weight: | 3.5 kg |
| Size: | 20 cm |
| Dimensions: | 263 x 11 x 25.2 cm; 3.5 Kilograms |
| Model: | 2000107 |
| Colour: | Green |
| Manufacture: | Greenworks |
| Colour: | Green |
| Size: | 20 cm |