Hotel Chocolat 472755 Velvetiser Hot Chocolate Machine, Copper

---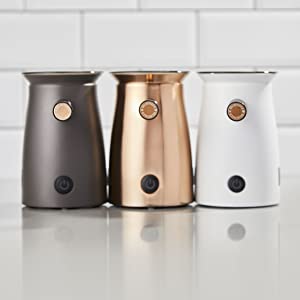 The Velvetiser
Imagined by Hotel Chocolat, engineered by Dualit
First we create our recipes, set them into pure chocolate blocks, grate them into gossamer-fine flakes, then seal them into single serve pouches
Barista-grade hot chocolate, at home
Real, grated chocolate. Your choice of dairy milk, plant milk or spring water. Meld into cloud-like luxury velvet, right from your kitchen
The Inventing Room
Our Cambridgeshire Inventing Room is where the magic happens. It's here that our chocolatiers get creative, experimenting with daring new chocolate recipes and uncompromising ingredients.
It's Easy
Make sure your whisk is in place

Pour your liquid in up to the line

Add the Hotel Chocolat flakes

Press the button and let the Velvetiser work its magic

Hotel Chocolat
"I wanted to express the escapist thrill of good chocolate. That's where the name Hotel Chocolat came from. 'Chocolat' sounds like the seductive melt taking place and 'Hotel' promises a place to escape to."
– Angus Thirlwell, CEO and Co-founder
The Story of Hotel Chocolat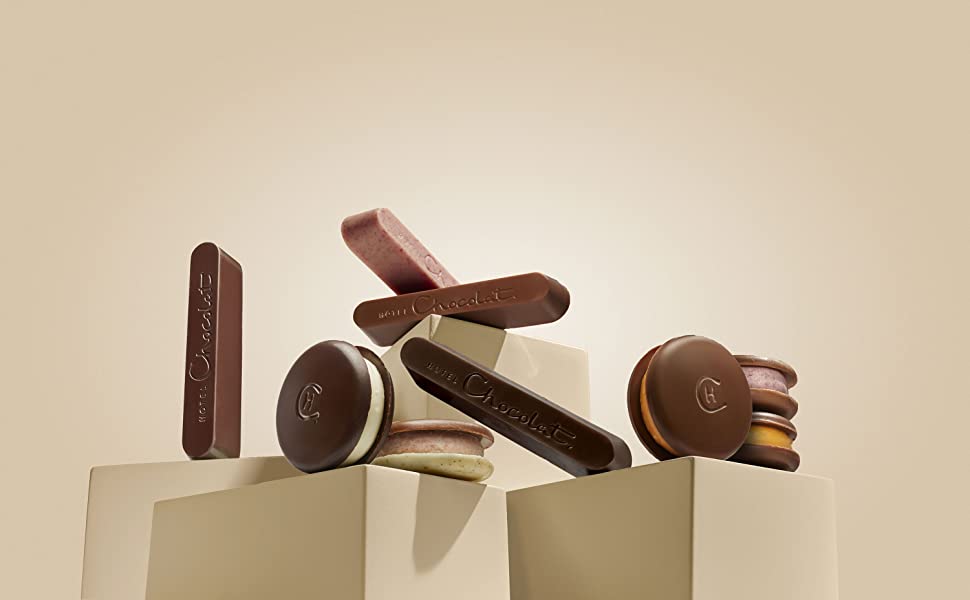 Tree to Bar
Hotel Chocolat was founded in 2004 to make people happy. Angus Thirlwell and Peter Harris built it on three unwavering pillars: authenticity, originality and ethics. One of the few chocolate makers to directly grow some of their own cacao, on their eco-conscious cacao farm in the grounds of their Saint Lucia hotel (yes, you can stay there too), they connect the world of sustainable cacao agriculture with the hedonism of top-quality chocolate. This makes them unique in the UK, and gives them an unrivalled understanding of what impacts the taste of their chocolate, right from the growing tree.
In 2006 they bought the 275-year-old Rabot Estate cacao farm in Saint Lucia, now home to the boutique Rabot Hotel. For over a decade they've been directly growing some of their own cacao on their organic estate, humbly learning the intricacies of every stage of the bean's growth and the development of its flavours – from tree to bar – so that they can create chocolate with the best possible taste. In this way, and by working with cacao farmers around the world through their Engaged Ethics programme, they proudly connect the world of sustainable cacao agriculture with the hedonism of luxury chocolate.
The Three Pillars
Originality

Hotel Chocolat have never played by the rules of what people said chocolate should be. They've made their Easter eggs ridiculously thick but snappable. They've created the world's first single-côte chocolate, developed their own chocolate genre, Supermilk, and innovated even further with their drinking chocolate system, the Velvetiser. As well as Nutmilk, their unbelievably vegan chocolate, made without milk and with finely milled hazelnuts. Smooth and mellow, at 45% cacao, Nutmilk was five years in the making and worth every obsessive second.

Authenticity

Chocolate starts at the roots of the cacao tree. We're one of the world's few chocolate makers to actually grow cocoa, on our beautiful Rabot Estate in Saint Lucia. Connecting cacao-growing with luxury chocolate making and retailing makes us unique in the UK, and gives us an in-depth understanding of the factors that impact the final flavour of our chocolate.

Ethics

Hotel Chocolat have a deep sense of fairness. They work directly with cacao farmers all over the globe, all of whom deserve respect and a fair deal, and their Engaged Ethics programme continues to transform the lives of many in Ghana and Saint Lucia.

For future generations, they're reducing waste. They use every part of the cacao bean, down to the malty shells in their Salted Caramel Vodka Liqueur. But more than that, they have committed to their Planet Pledge: 100% ethical cacao now, almost there with 100% recyclable packaging and striving for net carbon zero by 2030.
| | |
| --- | --- |
| Weight: | 2.86 kg |
| Dimensions: | 21.8 x 11.9 x 20.2 cm; 2.86 Kilograms |
| Brand: | Hotel Chocolat |
| Model: | 472755 |
| Colour: | Copper |
| Colour: | Copper |