Lollipop HD WiFi Video IP Indoor Camera for Baby, Pet, Home Security (Compatible with iOS & Android)- Supports 2 Cameras and Up, Night Vision, 2-Way Talk Back- Baby Boy Girl Shower Gifts (Sensor)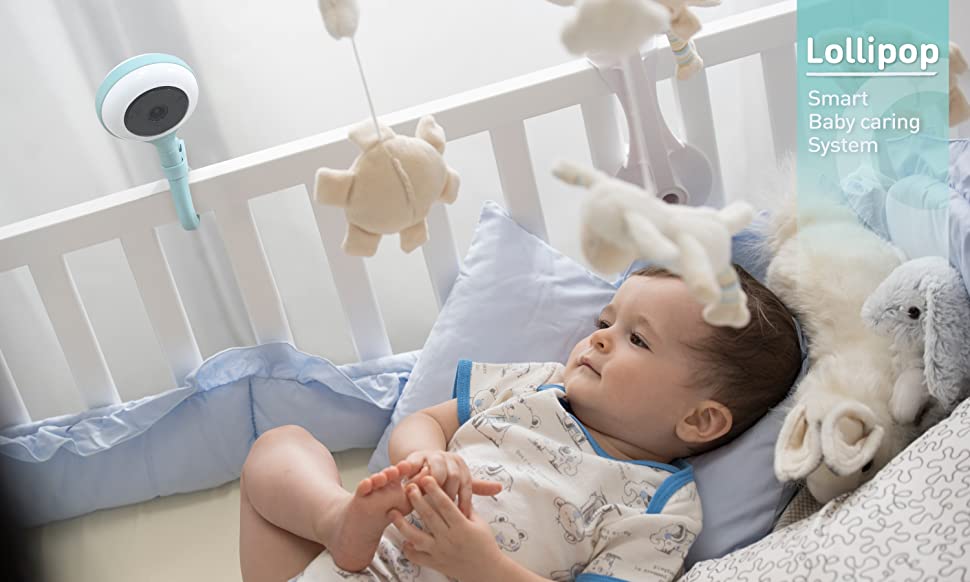 ---
Lollipop – Smart Baby Camera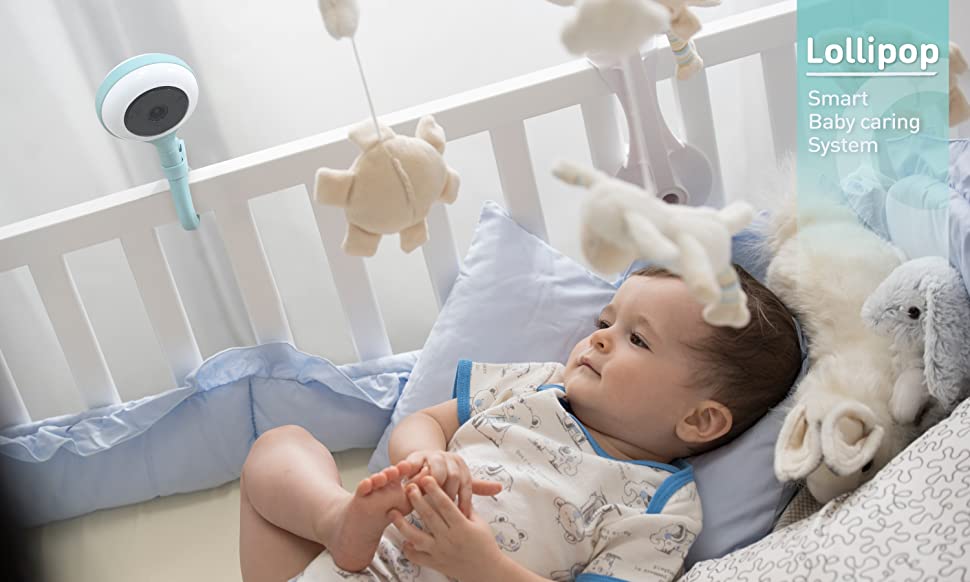 Lollipop Camera: Like Giving Candy to a Baby

Do you wish you could go out without having to worry about your baby being left with some young babysitter? Or, even less comforting, an old-fashioned baby monitor?  Well, say hello to the future.  Lollipop Smart Baby Camera was designed for parents just like you; worriers who want to be able to go out and still check in on their baby properly.  We developed a video-based solution to monitoring your child.  We're a high-tech team, but we don't have robotic hearts: we care.
This unique, one of a kind Lollipop technology is unlike anything else on the market.  It's a remarkable, intelligent, high-quality video baby monitor that helps you look after your little one.  Not only is this technology easy to use and completely reliable when you're out and about, but it looks great.  Now you can see and hear your baby, so you know they're safe, and they feel safe with a friendly, pretty monitor watching over them.

               Our team doesn't just care about smart technology.
                 We care about smart solutions for your family.
[New Feature 1] Audio Mode –

The Only Wifi Baby Monitor with Audio Mode for Overnight Monitoring

[New Feature 2] Audio Mode Alarm System –

Alarm while Network disconnect at Audio Mode – Make you sleep better at night

No Addtional Monthly Fee –

We pay cloud service fee for you

True Crying Detection

– Crying detection with low false alarm by noise

Push Video Notify

– 30s event video, by Crying/Noise/Virtual Wall (Optional: Lollipop Sensor, Temperature, Humidity, Air Quality)

High Quality Video

– Sony Sensor inside, H.264, 720P, with Made-in-Japan Computar Lens

Streaming

– In home:LAN rtsp/Away from home:Cloud Streaming

Data History

– Daily & weekly noise/crying and environment (Optional: Lollipop Sensor) data log

Lovely Looking

– Soft colors, Toxic-free silicone(CPSIA Certified)(ASTM F963-11 conformed)

Quick Setup

Night Vision

– Two mode selection – 940nm LEDs invisible for nearing baby, and 850nm for wall mounting

Remote Music Playing

– Lullabies and smooth sounds built-in

Live View Sharing

– unlimited shared users for your relatives

Mobile Device Requirement

– Bluetooth 4.0(BLE) iPhone 4s or Later / Android Phone

WIFI Spec

– IEEE 802.11b/g/n 2.4GHz

OS Version

– iOS 8.0 or later / Android 4.4 or later
We know how hard it is to fulfill your job as a parent.  We want to make things easier for your child, but also for you.  This is about improving your quality of family life.   
The Package
WHAT DO YOU GET WITH THIS INCREDIBLE TECHNOLOGY?

Lollipop camera

Power adaptor and 3 meter cable

Quick set up manual

Accessory for crib binding

Cable holder: You can store the power cable inside our holder to provide tangled wires which might pose a threat to your baby                                                                

Accessory for wall mounting: If you want to mount the camera on the wall, rather than the crib, you can!
 
Lollipop Sensor
Lollipop Sensor Provides More

The Lollipop sensor is a fun little additional accessory. It's completely optional, but we think that some of you might absolutely love it. Our whole objective as a company is make parenting easier for you; we want to keep your baby safe so that you don't lose your minds!

So, if you want to keep track of temperature, humidity and air quality while you're not at home (because you can't see these things on a camera), you can use Lollipop sensor.

The Lollipop sensor connects to the camera via Bluetooth, and it provides information regarding the air quality of your child's room whilst you're at home. With our instantaneous app notification, you'll know instantly if there's something wrong with the air or temperature in your baby's room.
 
3 ways to install
Way 1 (On the table)

Perhaps there's a well-positioned table in your baby's room, and you're thinking that this would be the perfect place to position a camera and get the optimal view of your child's crib? Well, fear not, because Lollipop wants to ensure that you're always able to watch your child from whichever spot you deem safest.

You can bind the tail of the Lollipop camera into any shape, and a flat-curved shape would be perfect to fit this camera onto a table. It's screw compatible, so tripods also work well! The point is that you can position the camera anywhere in the room that you deem suitable!
 
Way 2 (On the wall)

This is a funky and sensible solution to tracking your baby whilst you're out. Aesthetically, you'll have a cool, branch-like accessory with which you can mount your Lollipop smart baby camera on the wall. Why did we create such a crazy mount? Well, because Lollipop wants the aesthetic of your child's room to look pretty and appealing to their young and growing mind.

Also, of course, it's to give you a wider, fuller view of your baby's room if you don't want to miss anything. Fixing it onto the wall is simple: you could use 3 screws or our 3M sticker to install it on your wall.
 
Way 3 (On the crib)

Of course, for many parents, the crib is the main area over which you want a clear, defined and detailed view of all that's going on in your baby's room. You want to make sure you can keep a close eye on them, and mimic the care which you'd provide if you were at home in the flesh.

We make it easy for you to watch your baby's crib because Lollipop has a unique and flexible mounting apparatus for the smart baby camera to attach it to the side of a crib. It's so important that you have a clear view of your child.
 
| | |
| --- | --- |
| Weight: | 300 g |
| Dimensions: | 34.5 x 12.6 x 10.7 cm; 300 Grams |