PhysKcal Weight Bench Adjustable Incline Decline Flat Bench, Folding Weight Bench For Weight Lifting, 1-Second 1-Touch Smart and Safe Adjus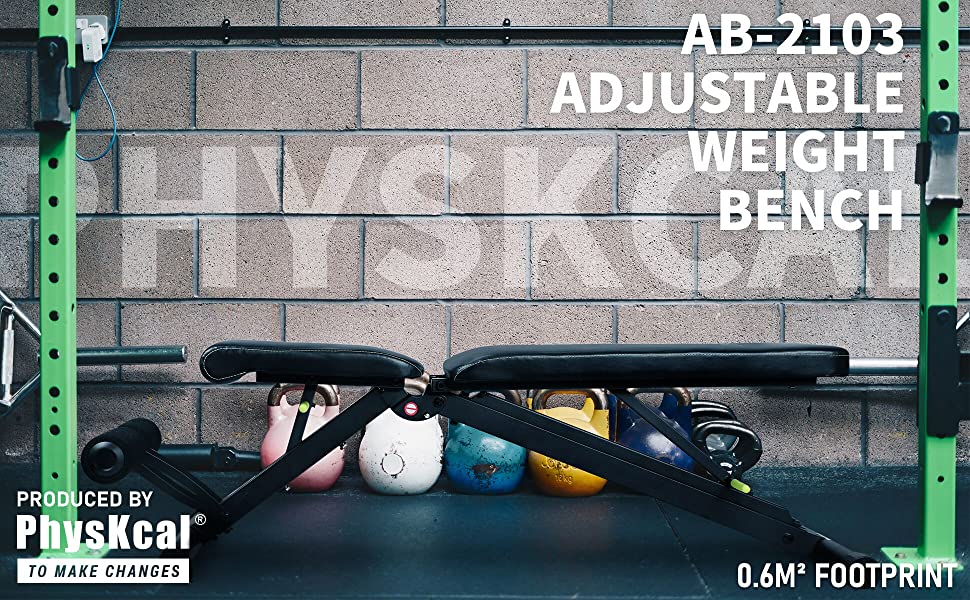 ---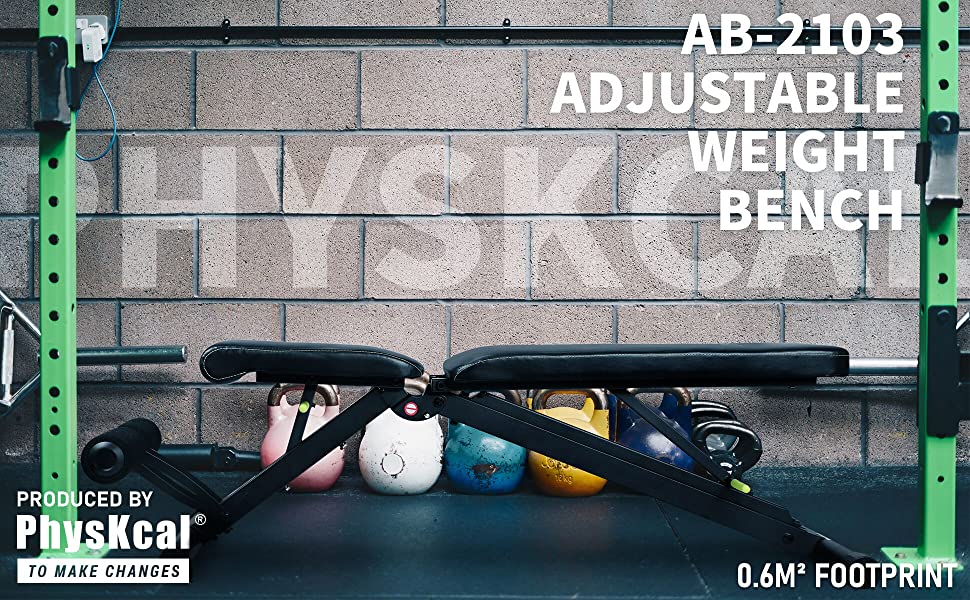 Who are we?
PhysKcal is founded by four fitness enthusiasts who working for sports company for years, and want to achieve their fitness passion by expanding beyond the confines of the office walls.
We strive to make changes on the current fitness equipment market which presents products with mixed qualities. We aim to overturn this mixed bag by delivering true premium home gym equipment and making quality our significant concern.
PhysKcal AB-2103
Reimagined for increased security and comfort.
PhysKcal AB-2103 Adjustable Weight Bench features reliable and stable constructions, offering our athletes comfort during workouts. The diversity of its 28 adjustable settings allows athletes to isolate and target the exact muscles they want. With a weight capacity of 275KG, this bench facilitates all users for frequent use, regardless of size, offering consistency, security, and accuracy.
Ready to hammer the gavel down on your training?
12-gague heavy duty steel, 275KG capacity

7X4 backrest and seat settings

11 clear coded angle indication

Double-lockin safe and smart adjust
Well Worth It For A Home Gym

An adjustable workout bench is essential for those looking to build muscle and strength. It provide a stable platform to lift heavy free weights and helps to build maximum muscle mass by giving a full ROM. A full ROM performed at different angles with heavy weights is the perfect recipe for chest growth.

Premium Materials Offer Impressive Durability

Designed using laser cut and robotically welded commercial-use steel, you can feel like held up by a pillar because of the stout square tubing. With a max load of 275KG, this weight bench facilitates all athletes for frequent use, regardless of size.

High Versatility Results from 28 Positions

With 7 backrest positions (-17°~80°) and 4 seat positions (-30°~20°) to target various muscles, this flat, incline and decline (FID) weight bench will bring great diversity for full body workouts.
Details Make Product Outstand

Supremely stable bolt-together tubular construction and extraordinary welding by German imported machine makes AB-2103 excellent from any so-called adjustable bench for home gym use. Details always matter.

Enormous Comfort and Support

The pad is 5CM thick with durable-stitch seamed vinyl, which makes a hotel mattress blush while keeps you dry and secure in place and support every rep of your bench press. Plus, the cover is also simple to clean.

Folding Design For Ultimate Convenience

Save 80% space by simple laying the support rods of both cushions flat and then pulling out the ball-head pin, and you can quickly fold and store this fodable bench under the beds or in the closets.
| | |
| --- | --- |
| Dimensions: | 130 x 46 x 42 cm; 16.5 Kilograms |
| Brand: | PhysKcal |
| Colour: | Black |
| Colour: | Black |