Revopoint POP 3D Scanner 0.3mm Accuracy 8 Fps Scan Speed Desktop and Handheld Fixed/Auto Scan Mode for Face and Body Scanning Modes for Color 3D Printing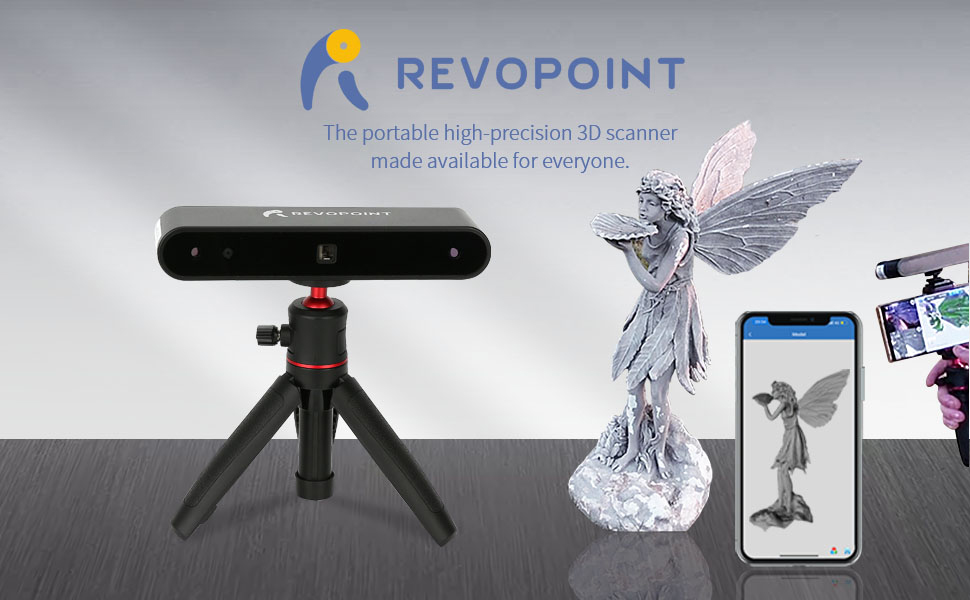 ---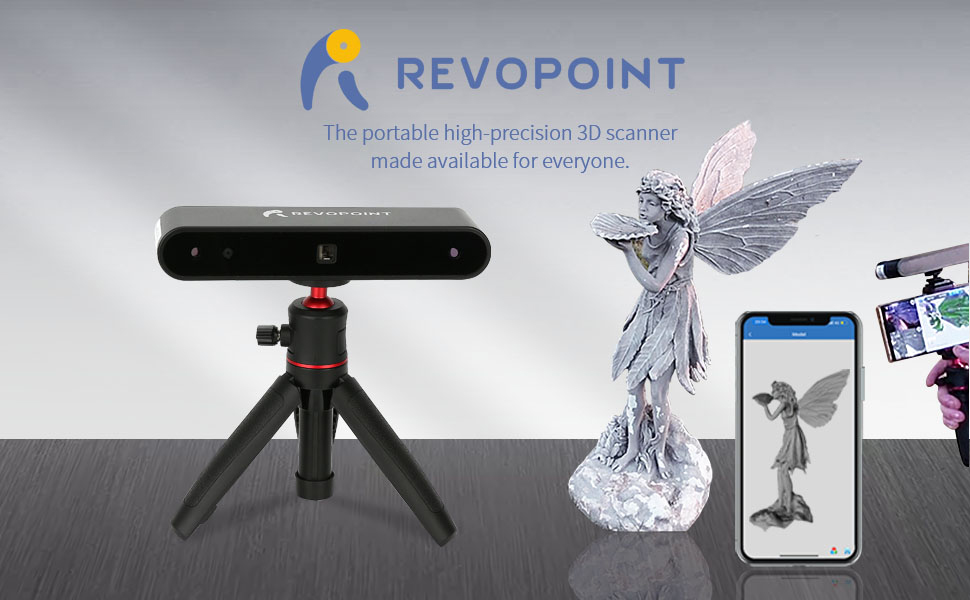 Ultra-High-Precision Consumer-Grade 3D Scanner
The Revopoint POP 3D scanner is a complex piece of professional 3D imaging equipment that outweighs other 3D scanners at its Value for money
Compared to industrial-grade scanners, our POP 3D scanner boasts a 0.3mm capturing accuracy and a binocular structured light, safe for any environment or object.
With affordability as our main factor, you'll receive much more than what any professional imaging device can give you while saving even more!
With a weight lighter than a chocolate bar(200g), this POP 3D scanner is no larger than a smartphone. The ability to carry to any venue, outdoor or indoor, scanning everything becomes a reality.
THE PERTECT SIDEKICK TUR 3D PRINTING
The POP 3D scanner is accurate compared to the usual scanners you find on the market, and when matched to those on the highest spectrum
Sharper and more precise images can be attained even when you scan objects with irregular textures.
To design and creatives alike, accuracy is a godsend. It helps reduce the amount of work needed to render and edit, also gives you a better overall look immediately, making changes if required.
Beside, the POP 3D scanner can differentiate between the general structure of hair and capture them in 3D, allowing a clearer 3D scan of it. With that, 3D images of your family members can be rendered and saved to preserve the happiest moments with them.
NO LIMITATION TO OKEATE DESIGN
Welcome to the dream of every animation artist or game design. you may use the 3D data attained to design your animation models flexibly.
Changing heads, facial expressions, posture, and all other things imagined are possible with our technology. The customization is limitless. Objects from sunglasses to shoes can all be scanned efficiently into the software.
The scanned objects can then be rendered into most major software and used as props. The option of freely adding these customed pieces to your 3D model makes designing enjoyable and more manageable.
Scan Face & Human Body
The Revopoint POP 3D Scanner is the optimal tool for 3D imaging and modeling.
The POP 3D scanner can scan the human body efficiently and the intricate features of someone's face. By establishing accurate cloud points with our technology, a human's facial features can be implemented almost identically in a digital image.
Face Or Body
Artwork
Industrial Design
Enjoy funning
Easy to Use

Conventional scanners in the market use complex software with an unimaginable algorithm to edit, which can be widely intimidating for many.

We use easy-to-learn software that sets consistent reminders of your scanning progress to keep you updated. All relevant details and progress are projected on the interface in real-time.The interface makes it user-friendly enough for even beginners to manage.

Invisible Light

The POP 3D Scanner is designed with minimum to no harmful light for safety.

Instead of using the available lasers technology, we opted for a technology called infrared scanning. The rays emitted from this technology are very safe and also comfortable to look directly at

You can scan someone's face and even have them look directly into the scanner for optimum results with no harm. Now, without alerting your pets, you can secretly take a 3D image of them.

One Cable Connection & WiFi data Transmission

The POP 3D scanner eliminates the need for having multiple cables. You only need one to operate. With the cable being bi-directional, all the information recorded from the scanner transfers to your laptop or smartphone while being supplied with ample power to operate.

Furthermore, we use only the fastest cable technology, the USB 3.0 to ensure blazing speed in transfers, which helps you review your design in real-time. Beside, The POP 3D scanner can send data out to your receiving device through WiFi.
Specification
| | |
| --- | --- |
| Brand | Revopoint |
| Product Model | POP 3D scanner |
| Single capture accuracy | Up to 0.3mm |
| Single capture range | 210mm x 130mm |
| Working distance | 275mm±100mm |
| Minimum scan volume | 50mm×50mm×50mm |
| Scan speed | Up to 8 fps |
| Light source | 1 class infrared Laser(eye-safe) |
| | |
| --- | --- |
| Alignment | Feature alignment, marker point alignment |
| Output format | STL、PLY、OBJ |
| Texture scan | Yes |
| Scanner weight | ≤225g |
| Dimensions | 6.06×1.5×1 (Inch ) |
| Printable data output | Able to export 3D model directly to 3D printing |
| PC/Phone configurations | Windows: win8/win10 Memory:≥4G iMac type: Only for Mac OS 10.15 and above Android: ≥Android 6.0 Memory:≥4G iPhone 6s and all models after; iPad Pro& iPad & iPad Air: the 3rd generation and above; System Version: ≥ iOS 11. |
| Note | which might vary subject to actual operating environment. |
| | |
| --- | --- |
| Dimensions: | 30.51 x 19.61 x 7.39 cm; 1.22 Kilograms |
| Model: | POP-A1 |
| Manufacture: | Revopoint |
| Origin: | China |