GROHE 38772001 Rapid Sl 3-in-1 Set for Wall-Hung Toilet (Wall Brackets and Skate Cosmopolitan Chrome Flush Plate)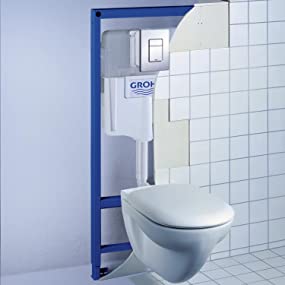 ---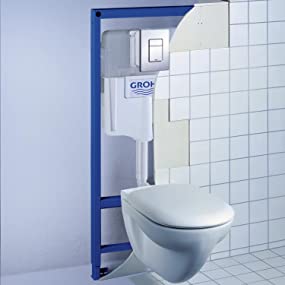 About GROHE
GROHE is one of the leading global brand manufacturers and suppliers of sanitary fittings.
Quality, technology, design and sustainability. Four brand values that illustrate GROHE's commitment to creating high level of experiences.
GROHE set standards high to ensure that every time you turn on a GROHE tap or step into a GROHE shower you can feel the difference.
GROHE Rapid SL Installation System
Water-saving toilet flush, as quiet as a whisper
Incorporating a variety of convenient properties, this installation system of the Rapid SL range is quick and easy to instal thanks to the GROHE QuickFix technology. No tools are required to connect water supply, hose and inspection shaft. The set comes complete with the Skate Cosmopolitan chrome flush plate. For maximum safety, the steel frame is certified to hold loads of over 400 kg. Installed in front of a solid wall or in a stud wall, the concealed toilet tank and a wall-hung toilet will facilitate your bathroom cleaning. The GROHE EcoJoy dual flush reduces your water consumption by up to 50 per cent and the GROHE Whisper noise control prevents the transmission of sound to adjoining rooms, making the Rapid SL an all-round attractive choice for your home.
GROHE EcoJoy
All GROHE EcoJoy products are systematically designed to save water and energy so that precious resources are conserved. These products, equipped with water-saving technologies, offer the right water experience without the need to compromise. Reducing water and energy consumption goes hand in hand with convenience and attractive design. Less water. Right flow.
GROHE Whisper
Thanks to low-noise fittings and decoupled piping, the GROHE Whisper technology prevents any sound transmission to adjoining rooms, leaving the other occupants of the house undisturbed. Undercutting the standard requirement of 24 dB(A), this system's low noise level of only 21 dB(A) was confirmed by Germany's renowned Fraunhofer research organization.
SpareFlush
Flushing a toilet effectively can be a challenge in buildings with old plumbing. The SpareFlush system provides a solution to this problem: in addition to the regular 6 L flush volume (or 4.5 depending on the ceramic body), it provides an extra volume of 3 L, ensuring an effective flush, even with old plumbing.
ToolFree
Connecting the system is easy with ToolFree concept: no tools are needed to connect water supply, flexible hose and inspection shaft.
GROHE StarLight
GROHE products are guaranteed to look as beautiful decades on as they did the day you first fell in love with them. The special recipe to success lies in our long-lasting surface quality: GROHE StarLight Technology. Continuous improvement over the last 75 years has seen the plating process refined to produce a robust and immaculate surface that is recognised as one of the best finishes in the world. This is thanks to rigorous quality controls and ongoing investment, giving you a lifetime of enjoyment.
GROHE QuickFix
GROHE wants to make life easier. GROHE believes that technical solutions should be quick to instal and fuss free. That's why they have developed GROHE QuickFix. They have listened to our team of loyal installers and researched the needs of customers to create a system that works smarter for both. You'll find GROHE's QuickFix precision engineering bringing benefits across all of product categories.
Safety
Safety is the name of the game with your GROHE installation system. The dimensional stability and load-bearing capacity of the steel frames were tested and the Rapid SL installation systems for wall-hung toilets and basins were certified to hold over 400 kg and up to 150 kg, respectively.
EasyConnect
Connecting drain valve and flush plate is super easy with our EasyConnect system. No need for tedious measuring or cutting the hose down to the right length. The pneumatic hose simply plugs onto the other elements. Smart and easy.
VarioPort
Save time with a VarioPort water connection: irrespective of position of the supply pipe, the supply hose can be attached at four points: front, rear, left or right.
German Engineering and Design
German engineering and design go hand in hand to offer quality and performance.
Ongoing investment in research and development has enabled GROHE to turn one of the world-leading technologies for bathrooms and kitchens into reality. GROHE products have been created to last a lifetime, to be both easy and intuitive to operate and to make the use of water a pleasure.
| | |
| --- | --- |
| Weight: | 1 kg |
| Dimensions: | 1 x 1 x 1 cm; 1 Kilograms |
| Model: | 38772001 |
| Part: | 38772001 |
| Colour: | Chrome |
| Pack Quantity: | 1 |
| Batteries Required: | No |
| Batteries Included: | No |
| Manufacture: | Grohe |
| Colour: | Chrome |
| Quantity: | 1 |