Ice Maker Machine, CUMEOD Countertop Ice Cube Maker with LED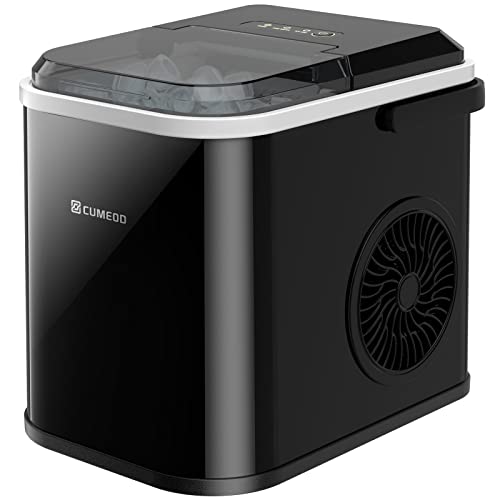 Ice Maker Machine, CUMEOD Countertop Ice Cube Maker with LED Display, Ice Cubes Ready in 6 Minutes, Make 12kg 24 Hrs, No Plumbing Self-Cleaning with Ice Scoop & Basket for Home/Office/Bar, 120W
---
Chill Out this Summer!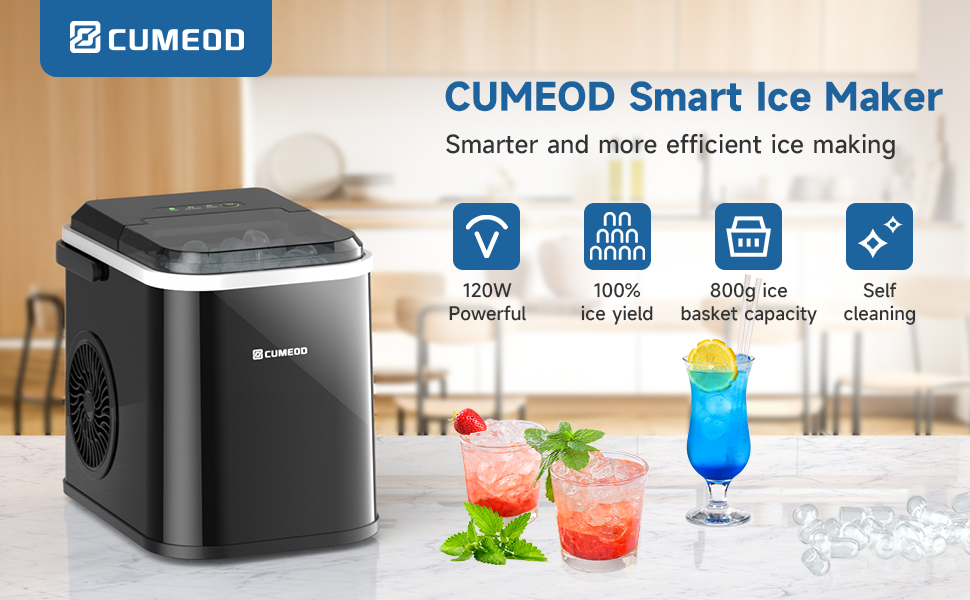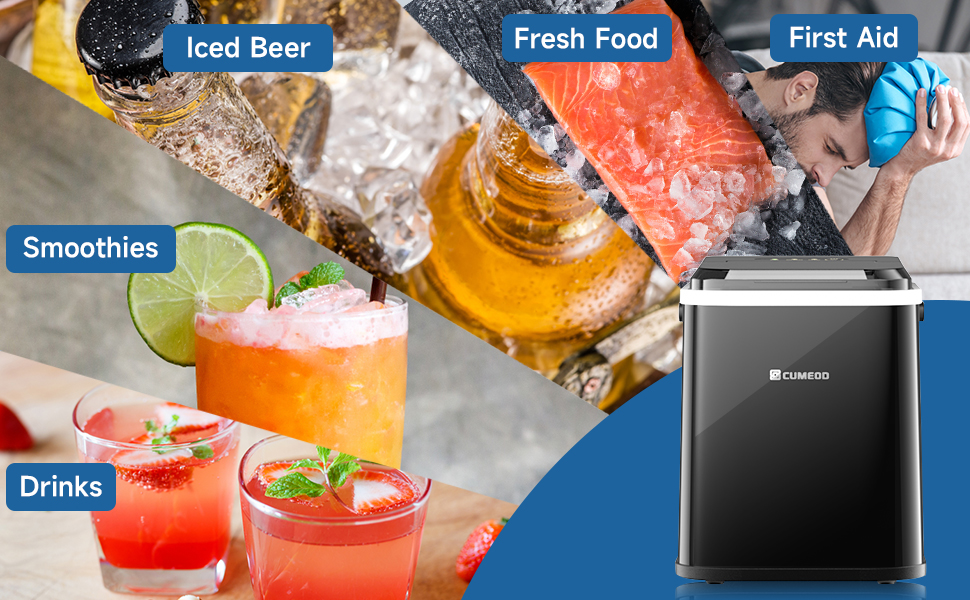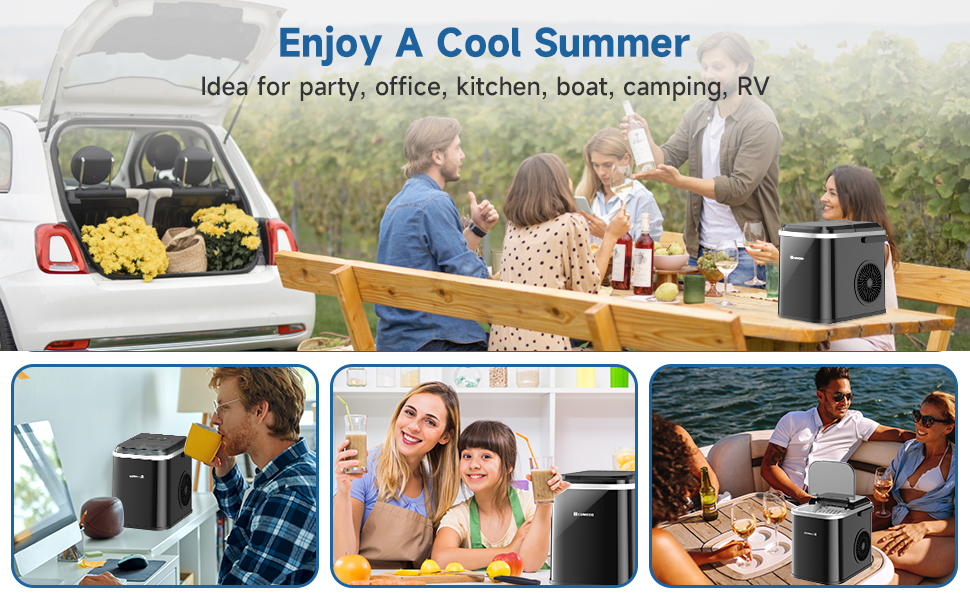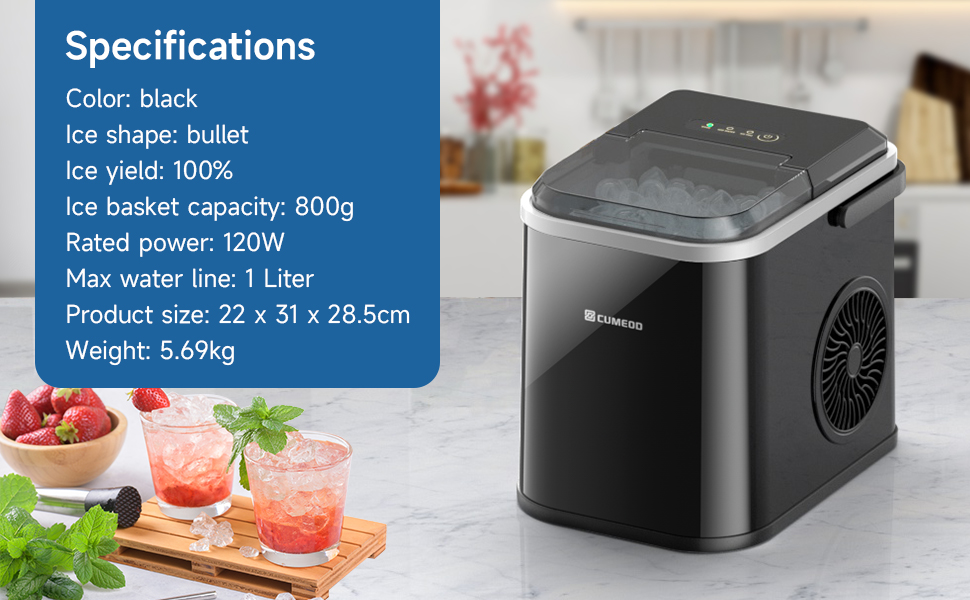 Analysis and Exclusion of Special Phenomena
The green light keeps flashing and will not work
1. Check that the ice basket is sitting correctly and not askew. Or please remove the ice basket and return it again.
2. Make sure there is no ice building up in the back of the ice basket as that will block the sensors.
3. Please wipe 2 lights next to the ice basket which is the sensor
Warm Tips
| | |
| --- | --- |
| Tips 1 | Read the user manual thoroughly before using the product. After receiving the product, please let it stand upright steadily on a flat and stable for 2-4 hours before turning it on. |
| Tips 2 | Please do not turn the ice maker upside down or tilt it more than 45° during transportation or use. If in any case, it happens, level and let it stand upright for at least 2 hours before you plugin and use the unit again. |
| Tips 3 | The first 1-3 batches of ice cubes might not be in perfect status and may not be made as quickly. Give it time to get to run stably. |
| Tips 4 | An ice maker is not a freezer, it does not keep the ice frozen. Use ice immediately or keep them in the freezer. |
| Tips 5 | Please do not use distilled water, pure water with low TDS value, water for various beverages, warm water, water with a high PH. |
| Tips 6 | Please operate the ice maker at an environment with an ambient temperature between 10℃ and 26℃ and fill the water reservoir with water ranges between 8℃ and 28℃. |
| | |
| --- | --- |
| Weight: | 5.69 kg |
| Size: | 22x31x28.5cm |
| Dimensions: | 31 x 22 x 28.5 cm; 5.69 Kilograms |
| Model: | YT-E-002A |
| Part: | YT-E-002A |
| Colour: | Black |
| Pack Quantity: | 1 |
| Batteries Required: | No |
| Manufacture: | Cumeod |
| Dimensions: | 31 x 22 x 28.5 cm; 5.69 Kilograms |
| Quantity: | 1 |
| Size: | 22x31x28.5cm |