Insta360 X3 Beginner's Kit – Waterproof 360 Action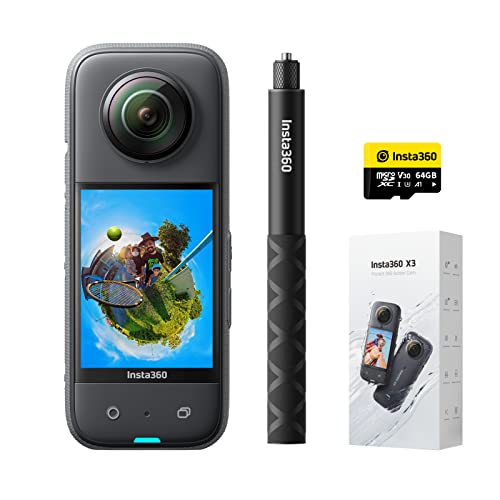 Insta360 X3 Beginner's Kit – Waterproof 360 Action Camera with 1/2″ 48MP Sensors, 5.7K 360 Active HDR Video, 72MP 360 Photo, 4K Single-Lens, 60fps Me Mode, Stabilization, 2.29″ Touchscreen, AI Editing
---




Insta360 X3 Dive Case

Made for underwater use with IPX8 water resistance.

Shoot as deep as 50 meters (164ft).

Insta360 X3 Quick Reader

Acts as a separate storage module for your files. Transfer files faster and edit more fluently in the Insta360 app with a physical connection. Compatible with iPhone (Apple MFI certified) and Android.

GPS Smart Remote

Control your X3, ONE X2 and ONE R from a distance. Track your trek. GPS data is automatically recorded, ideal for use with "Stats", allowing you to overlay data such as speed, altitude and direction.

X3 Mic Adapter

Capture high-quality audio using a mic and your Insta360 camera. Totally invisible when you shoot in 360 and upload to the Insta360 app.

Power Selfie Stick

Remote camera control makes shooting third person shots easier.
| | |
| --- | --- |
| Dimensions: | 32.1 x 12.9 x 11.5 centimetres |
| Brand: | Insta360 |
| Part: | CINSAAQ/B-CK |
| Batteries Included: | 1 Lithium Polymer batteries required. (included) |
| Dimensions: | 32.1 x 12.9 x 11.5 centimetres |
| Reference: | CINSAAQ/B-CK |