Pipestation EU to UK Travel Adapter Plug with USB Charger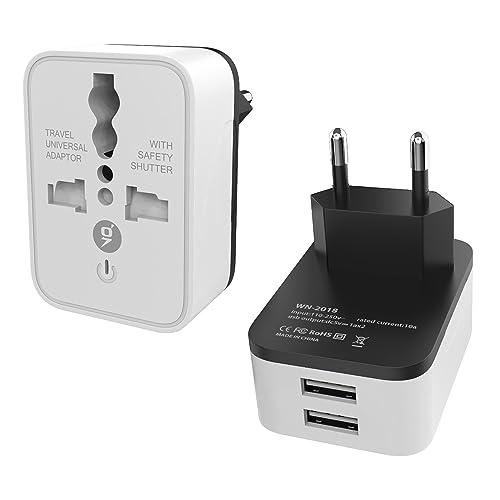 Pipestation EU to UK Travel Adapter Plug with USB Charger – 2 Pack | UK to Euro USB Plug Adaptor | UK 3 pin to Europe 2 Pin | Socket Converter for Spain Italy France Greece | European Type C E F Plugs
---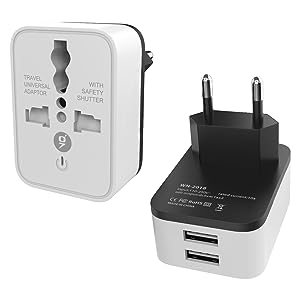 EU Universal Travel Adapter with USB Charging
Great value pack
UK to EU Travel Adapter Plug. These can be used to plug in and power / charge your standard electronic devices including mobile phones, tablets, laptops, toothbrush and shavers.
Safe to use
This Universal Travel Adaptor is fully tested and certified and comes CE marked for safety reassurance. These come with built-in safety shutters as standard.
Specifications
Plug adapter UK to Euro allowing charging of devices at a very high and optimum rate. Rated power up to 250V~, Max. 10A. Each USB slot has an Output of 5V / 1a.
What is included
2x EU Universal Travel Adapter with USB Charging
Connection Type

Universal to Type C, E, F

Universal to Type A

Universal to Type D

Universal to Type J

Universal to Type I

Power Rating

10A ; 250V~

10A ; 250V~

10A ; 250V~

10A ; 250V~

10A ; 250V~

Compatible Countries

Europe, South America, Asia

USA, Canada, Mexico, Japan

India, Pakistan, Bangladesh,, Nepal, Bhutan, Myanmar

Switzerland, Liechtenstein

Australia, New Zealand

Pack Size

Pack of 2

Pack of 2

Pack of 2

Pack of 2

Pack of 2
Connection Type

Convert USB to C, E, F

Convert USB to C, E, F

Convert USB to A

Convert USB to C, E, F

Convert USB + USB-C to C, E, F

Convert USB + USB-C to C, E, F

Power Rating

USB Output: 1A ; 5V

USB Output: 2.1A ; 5V

USB Output: 2.1A ; 5V

USB Output: 3.0A ; 5V

USB-A Output: 3.0A ; 5V

USB-A Output: 3.0A ; 5V

Power Rating

USB-C Output: 3.0A ; 5V

USB-C Output: 5.4A ; 5V

Compatible Countries

EU

EU

US, Canada, Mexico, Bahamas, Japan

EU

EU

EU

Pack Size

Pack of 1

Pack of 1

Pack of 1

Pack of 1

Pack of 1

Pack of 1