Zonus™ Waterproof Phone Pouch and Travel Essentials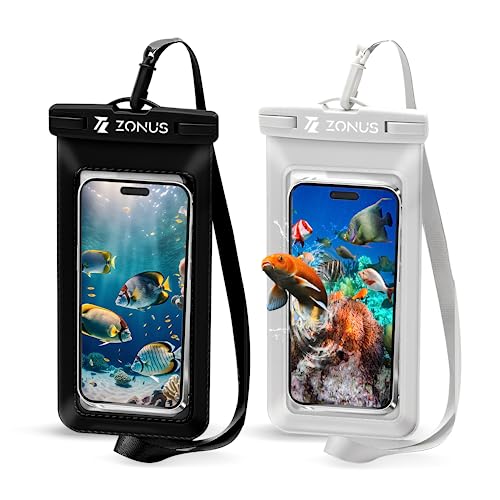 Zonus™ Waterproof Phone Pouch and Travel Essentials, Perfect Beach Accessories for Family, Water Proof Phone Case for Swimming, Waterproof Bag, Kayak Accessories, Paddle Board Accessories
---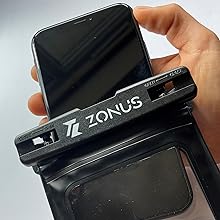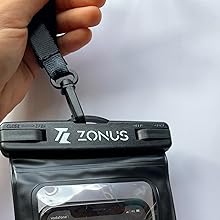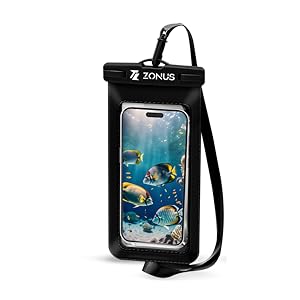 Sealing Memories, Unlocking Adventure.
UNMATCHED WATERPROOF PROTECTION: With its advanced waterproof seal, this case boasts an IPX8 rating, offering protection up to 100 feet (30 metres) underwater. Now you can swim, surf, and snorkel without fear, knowing your phone is safeguarded from water damage.
VALUABLE INVESTMENT: Empowering every adventure seeker, beach lover and outdoor enthusiast, this phone waterproof pouch grants you peace of mind wherever life's adventure takes you.
STAY CONNECTED: With uninterrupted communication, our waterproof phone pouch allows you to keep your phone with you at all times, even in wet environments. Bluetooth friendly.
Please Kindly Note
1. It is recommended you remove your phone case before you put your phone into this Waterproof Phone Pouch.
2. Easy to touch screen, but NOT for touch ID fingerprint.
3. Mobile phones may suffer water pressure under certain water depths, which will impact the operation of the touchscreen. In this case, please take photos with volume buttons.
4. Fog inside the waterproof bag is normal.
5. Please test the water resistance of the phone pouch before use. This can be done by placing a tissue and soaking it in water for half an hour.