Electric Toothbrush, Sonic Toothbrushes with 8 Brush Heads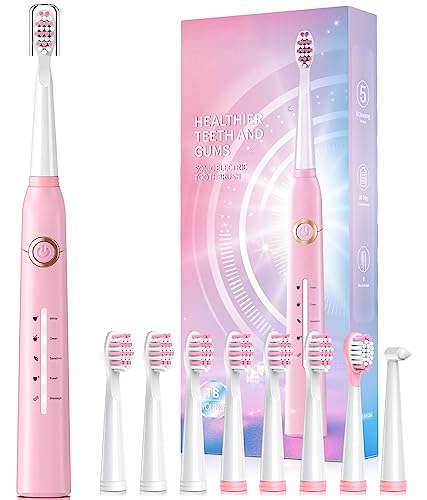 Electric Toothbrush, Sonic Toothbrushes with 8 Brush Heads 40000 VPM 5 Modes, Sonic Toothbrushes Fast Charge 4 Hours Last 30 Days, Rechargeable Electric Toothbrush for Adults, Pink
---
Is there after-sales service?
ONE year for normal purchases and TWO years for VIP members.
After-sales Service via Amazon:
Login in>"Your orders"> Find Your Order> "click "
What replacement heads are compatible?
Any of our replacement heads will fit this electric toothbrush .
ASIN: B09SBCZ2W5
How long does it take to charge?
Up to 4 hours to fully charge and one charge last for 30 days.
Note: Wall adapter not included. Only use 5V IPX-4 adapter (Type A).
How many brush heads in total?
8 Repleacement Brush Heads.
Including 7 Cleaning Brush Heads & 1 Interdental Brush Head.
Lasts 24 months in total.
Can I use my electric toothbrush in the shower?
Of course. It is IPX8 waterproof.
Just remember to close the bottom cover tightly.

1
Demita Toothbrush
2
5x powerful modes
3
TRUE 40,000 vpm
4
Package Include
5
20,000 Smiley Faces