YOTON 9.5″ Portable DVD Player with 7.5″ HD Swivel Screen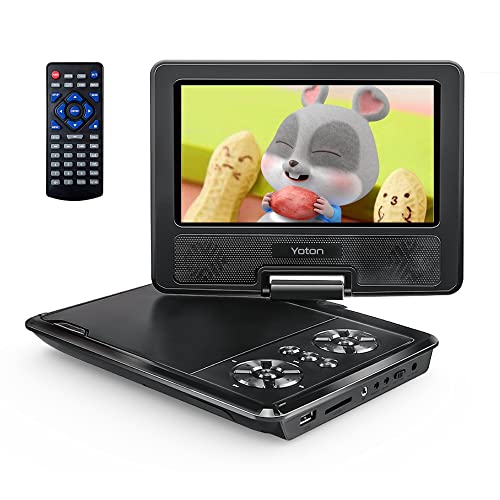 YOTON 9.5″ Portable DVD Player with 7.5″ HD Swivel Screen for Car and Kids, 4-6 Hours Working time with Built-in Battery, Support Headphone/AV-IN/AV-OUT/USB/SD Card [Not Support Blu-ray]
---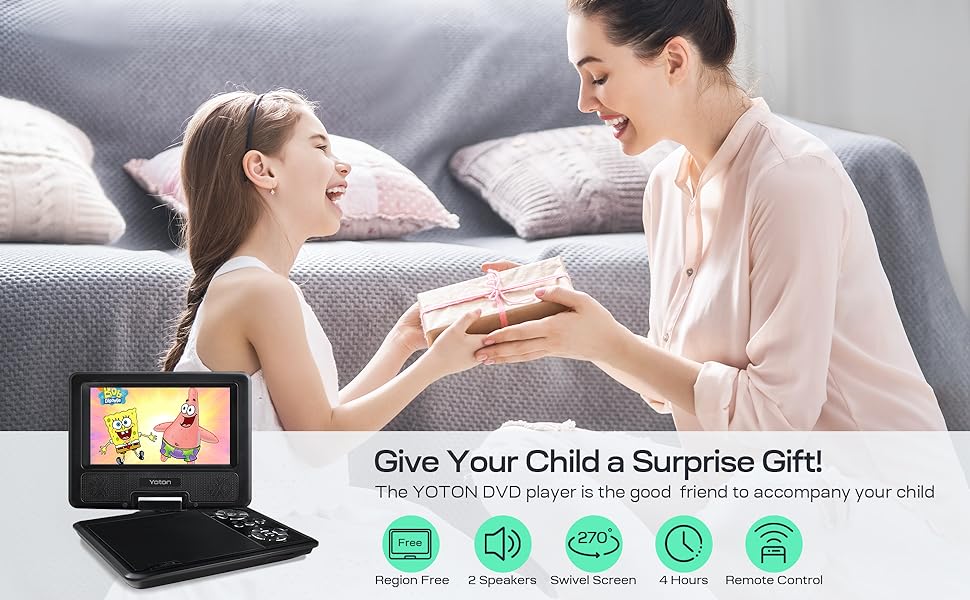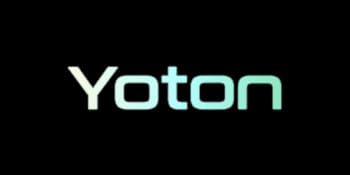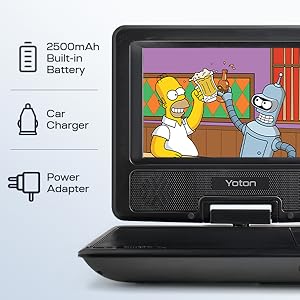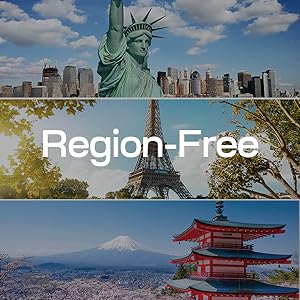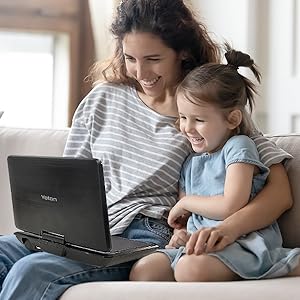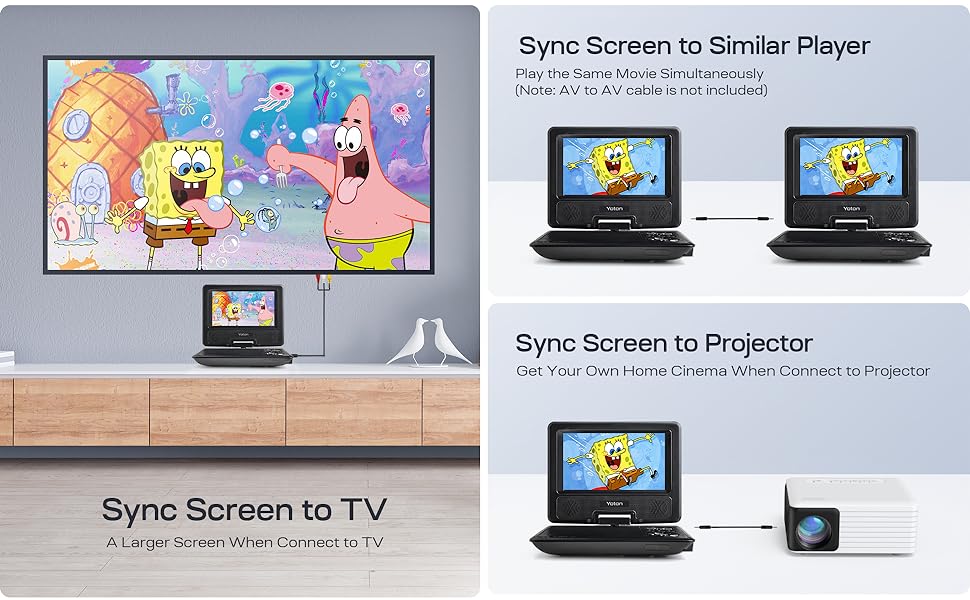 ► Supported Multiple Formats
Disc Formats:

VCD: VCD1.1, VCD2.0, VCD3.0, SVCD, DVCD, CVD

DVD: MINI DVD, DVD-5, DVD-9, DVD-10, DVD-18, DVD+R, DVD-R, DVD-RW, DVD+RW

Video File Formats: AVI, MPG, MPEG, DAT, VOB, OGG, ASF

Video Encoding Format: MPEG-1, MPEG-2, MP4V, DIVIX, XVID

Audio File Formats: MP3, WMA

Image File Formats: JPEG
*NOTE: The machine ONLY Support 720×480 resolution video files and 2650×1440 resolution image files.
► Frequently Asked Questions
Q: Why does the portable DVD player seems to be unable to power on?
A: Please make sure the machine is fully charged. When the machine is not in use, please turn the power switch to the OFF position to save power. If you still can't turn it on, please feel free to tell us.
Q: Why can't I play my DVD video?
A: Ensure that the disc, USB/SD card and file format meet the format requirements.
If the DVD player displays "No disc", try replacing the DVD with another DVD.
When replacing a DVD, do not touch the laser head in the centre of the DVD player. The disc may become unreadable. Inserting a scratched disc may cause the unit to automatically stop/freeze during playback!
Q: There is no HDMI port, how can I connect to the TV?
A: Our portable DVD player has a 3-in-1 AV cable and interface, please use the AV cable to connect to the TV. If your TV only has an HDMI interface, please buy an HDMI and 3-in-1 AV cable adapter, so that DVD playback can be realized connected to the TV.
Q: Can it plays Blu-ray?
A: The portable DVD player does not support Blu-ray DVDs.
Model

YD075

YD105

YD105A

YD155

YD155M

Screen Size

7.5 Inches

10.5 Inches

10.5 Inches

15.5 Inches

14.1 Inches

Screen Resolution

800×480

1024×600

1024×600

1366 x768

1366 x768

Video Resolution Limit

720×480

720×480

720×480

720×480

720×480

Battery Capacity

2500mAh

2500mAh

2500mAh

5000mAh

5000mAh

Working Time

4-6 hours

4-6 hours

4-6 hours

4-6 hours

4-6 hours

Region-free

✓

✓

✓

✓

✓

Support Format

a.VCD: VCD1.1, VCD2.0, VCD3.0, SVCD, DVCD, CVD b.DVD: mini-DVD, DVD-5, DVD-9, DVD-10, DVD-18, DVD+R, DVD-R, DVD-RW, DVD+RW c.Video Format: AVI, MPG, MPEG, DAT, VOB, OGG, ASF d.Audio Format: MP3, WMA

a.VCD: VCD1.1, VCD2.0, VCD3.0, SVCD, DVCD, CVD b.DVD: mini-DVD, DVD-5, DVD-9, DVD-10, DVD-18, DVD+R, DVD-R, DVD-RW, DVD+RW c.Video Format: AVI, MPG, MPEG, DAT, VOB, OGG, ASF d.Audio Format: MP3, WMA

a.VCD: VCD1.1, VCD2.0, VCD3.0, SVCD, DVCD, CVD b.DVD: mini-DVD, DVD-5, DVD-9, DVD-10, DVD-18, DVD+R, DVD-R, DVD-RW, DVD+RW c.Video Format: AVI, MPG, MPEG, DAT, VOB, OGG, ASF d.Audio Format: MP3, WMA

a.VCD: VCD1.1, VCD2.0, VCD3.0, SVCD, DVCD, CVD b.DVD: mini-DVD, DVD-5, DVD-9, DVD-10, DVD-18, DVD+R, DVD-R, DVD-RW, DVD+RW c.Video Format: AVI, MPG, MPEG, DAT, VOB, OGG, ASF d.Audio Format: MP3, WMA

a.VCD: VCD1.1, VCD2.0, VCD3.0, SVCD, DVCD, CVD b.DVD: mini-DVD, DVD-5, DVD-9, DVD-10, DVD-18, DVD+R, DVD-R, DVD-RW, DVD+RW c.Video Format: AVI, MPG, MPEG, DAT, VOB, OGG, ASF d.Audio Format: MP3, WMA