Vax CLSV-B4KS OnePWR Blade 4 Cordless Vacuum Cleaner, Graphite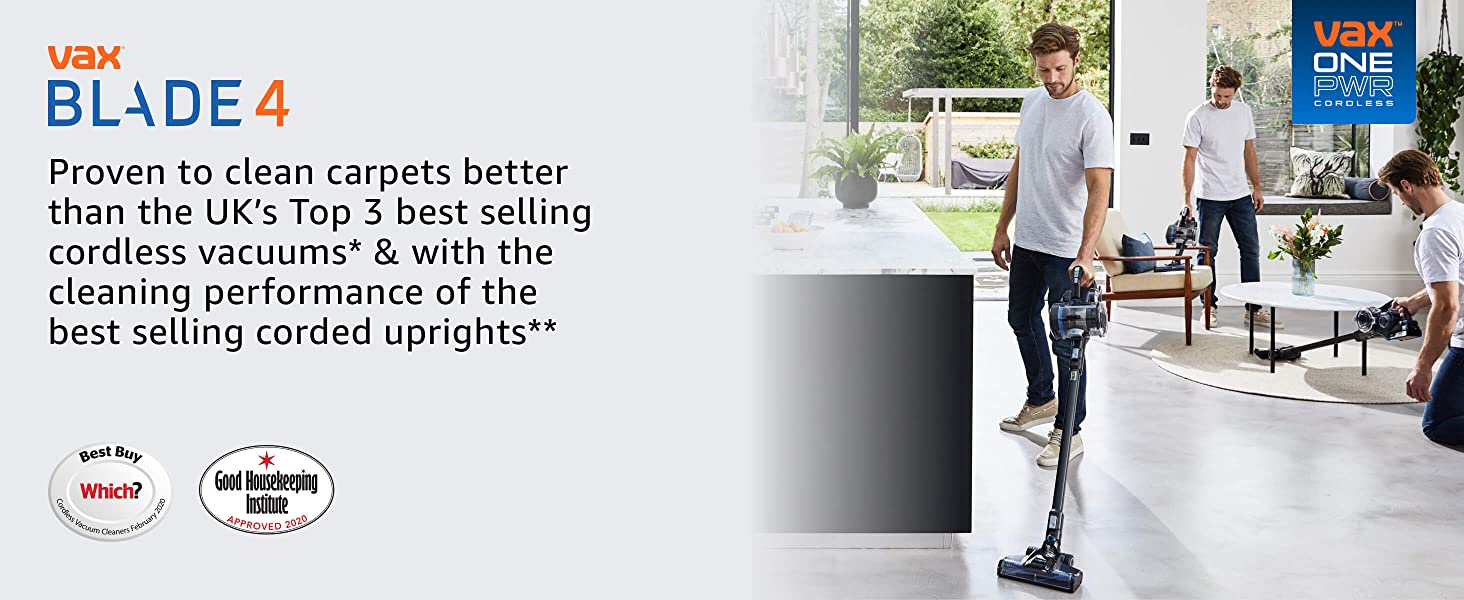 ---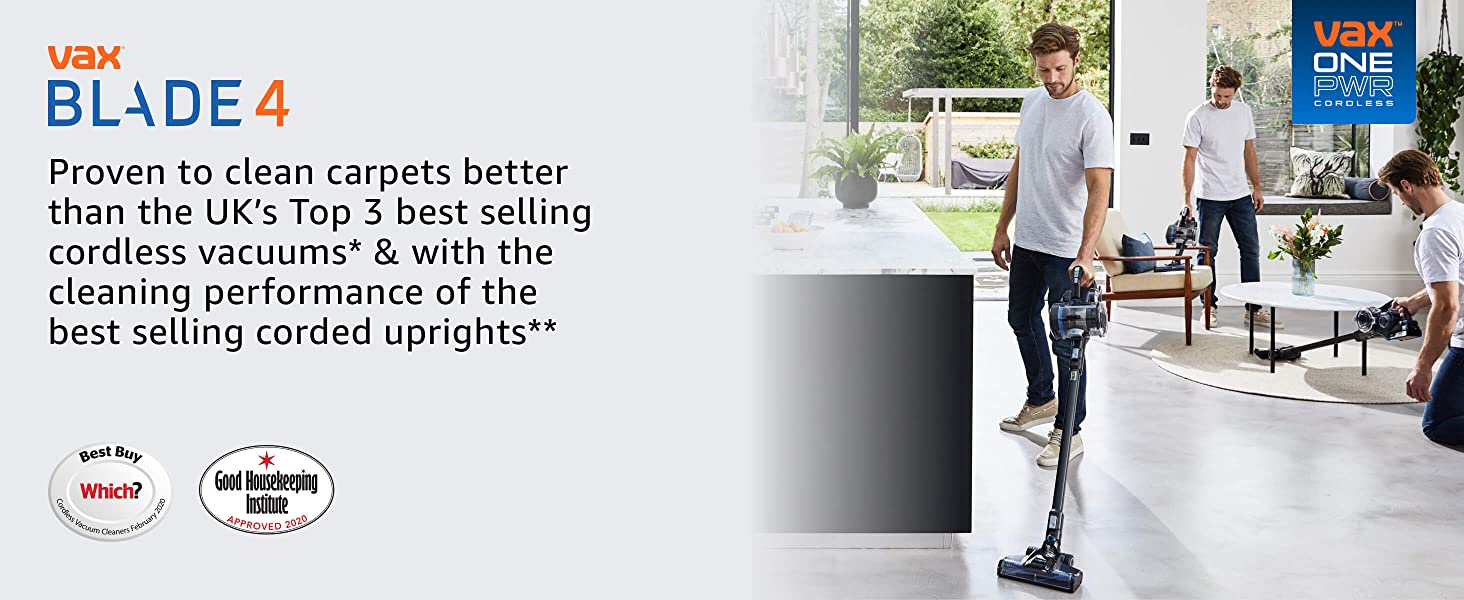 Removable ONEPWR Battery
The VAX Blade 4 comes with a revolutionary new 4.0Ah battery that gives you up to 45 minutes runtime, plenty of time to clean without recharging.
Every ONEPWR Battery fits every ONEPWR product.
Intelligent vacuuming
VAX Blade 4 is controlled by VAX Core Technology, continually monitoring power to maximise cleaning efficiency & performance.
Whole home cleaning
Vax Blade 4 the cleaning performance of the best corded uprights & the freedom of a cordless vacuum.
DustVault
3 stage filtration technology ensures that even the smallest particles of dust are captured in the dirt bin. Capturing up to 99.8% of particles.
No loss of suction
Vax Blade 4 maintains constant high pick-up performance even when the dirt bin is full or the battery is low.
Lightweight and innovative
At just 3.1kg, VAX Blade 4 is perfectly balanced for effortless, easy to use cleaning.
Boost mode
Up to 3x the power at the touch of a button giving you the very best cleaning performance, when you really need it.
DustTracker LED headlights
With the DustTracker LEDs you can easily see where you need to clean, so there is nowhere left for the dirt to hide.
Removable bin
Simple, hygienic and easy emptying.
Shop the Vax ONEPWR Blade range
| | | | | | | | |
| --- | --- | --- | --- | --- | --- | --- | --- |
| | Vax Blade 4 | Vax Blade 3 | Vax Blade 3 Pet | Vax Blade 3 Pet Dual Batt | Vax Blade 4 | Vax Blade 4 Pet | Vax Blade 4 Pet Dual Batt |
| | 1x ONEPWR 4.0AH MAX | 1x ONEPWR 3.0AH | 1x ONEPWR 3.0AH | 2x ONEPWR 3.0AH | 1x ONEPWR 4.0AH MAX | 1x ONEPWR 4.0AH MAX | 2x ONEPWR 4.0AH MAX |
| | up to 45 mins | up to 40 mins | up to 40 mins | up to 80 mins | up to 45 mins | up to 45 mins | up to 90 mins |
| | Yes | Yes | Yes | Yes | Yes | Yes | Yes |
| LED Dustracker Headlights | Yes | Yes | Yes | Yes | Yes | Yes | Yes |
| | Yes | — | — | — | Yes | Yes | Yes |
| | Yes | — | — | — | Yes | Yes | Yes |
| | Dustvault 3 stage – 99.8% | Dustvault 3 stage – 99% | Dustvault 3 stage – 99% | Dustvault 3 stage – 99% | Dustvault 3 stage – 99.8% | Dustvault 3 stage – 99.8% | Dustvault 3 stage – 99.8% |
| Suitable for homes with Pets | — | — | Yes | Yes | — | Yes | Yes |
| | — | — | Yes | Yes | — | Yes | Yes |
| | — | — | Yes | Yes | Yes | Yes | Yes |
| | 3.1kg | 3.1kg | 3.1kg | 3.1kg | 3.1kg | 3.1kg | 3.1kg |
| | 0.6L | 0.6L | 0.6L | 0.6L | 0.6L | 0.6L | 0.6L |
| | |
| --- | --- |
| Weight: | 4.46 kg |
| Dimensions: | 18.5 x 28.5 x 72.5 cm; 4.46 Kilograms |
| Brand: | Vax |
| Model: | CLSV-B4KS |
| Colour: | Graphite |
| Colour: | Graphite |