Bristan BL3105 B Bliss 3 Electric Shower, 10.5 kW, Black [Energy Class A]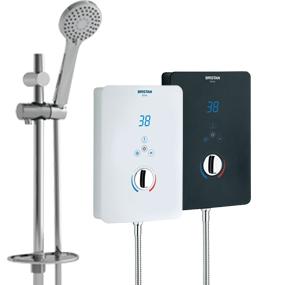 ---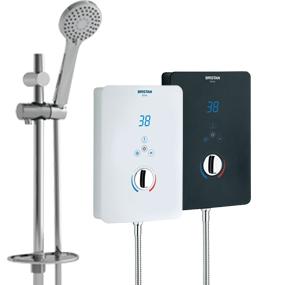 As one of the fastest growing electric shower brands and the UK's number one in taps and showers, you can be confident that our range of electric showers don't just look great, but also perform flawlessly. They've been engineered to last and will give you hot water instantly, no matter how busy your bathroom is or even if your boiler breaks!
Through everything we do, from the practical design of our products to our helpful service, we try to make things easier for our customers.
Bristan Bliss 3 Electric Shower
Available in 8.5kW , 9.5kW and 10.5kW. Black or White
The Bristan Bliss electric shower range has been designed to be eye catching, long lasting and suitable for all instalations.
The footprint of the shower has been designed to cover many existing instalations – so if your current electric shower is from a UK brand your new Bristan electric shower should match the water and electric inlets, as well as cover any existing fixing holes.

Sleek design incorporates touch controls for on/off and power settings.

Anti-limescale feature reduces build-up of limescale by flushing cold water through the shower after use, prolonging the life of the shower.

Warm up mode; set your temperature and once reached the on/off button stops flashing; no more cold starts!

Performance indicator – Keep your shower in tip top condition with our unique visual reminder to clean the external filter and handset; for longer lasting shower performance.

Requires main cold feed only with pressures between 0.7 and 10.0 bar.
| | | | |
| --- | --- | --- | --- |
| If you are replacing an existing electric shower then choosing one of ours should be an easy replacement thanks to multiple inlet options for the water and electricity supplies. The footprint of our electric showers has been designed to cover the majority of other UK electric showers across all manufacturers. See below to help further with this. | Our electric showers are rigorously endurance tested in house, through 50,000 cycles, to ensure you get the best possible performance and can have full confidence that our electric showers are built to last. Features such as phased shutdown, where cold water is drawn into the shower unit at the end of use to help prevent the build-up of limescale, have been built-in to extend the product life. | Today's electric showers are more design-led than ever before, so don't think that having an electric shower means you have to compromise on style. Our range has been designed to be eye catching and sleek, with high gloss finishes and quality chrome shower kits with large showerheads for an invigorating shower experience. | We are the UK's number one in taps and showers and we pride ourselves on offering the best customer service so you have complete peace of mind. We support all of our customers through their purchase, installation and for the many years that follow. Everything you need to instal, maintain and enjoy your electric shower is included in the box. |
Easy Replacement
The footprint of Bristan's electric showers has been designed to be compatible with the majority of other UK electric showers including: Triton Aspirante, T80z Slimline and T70z. Mira Vie and Go and Aqualisa Vitalise plus many others. Follow our easy to use dimension and inlet drawing to check suitability on an individual basis.
Anti – Limescale
Showers with this feature will continue to run for a short time after turning off in order to flush any hot water out of the shower. This will reduce any lime scale build up and prolong the life of the shower.
Family Safe Thermostatic
Ideal for family bathrooms – the shower will provide a consistent temperature even if a tap is turned on elsewhere in the house, preventing scalding.
Multiple Ratings
Higher rating showers (e.g. 10.5kW) will heat the water quicker resulting in a higher flow rate – we recommend 10mm cabling throughout the installation for showers of 9.5kw rating or higher and 6mm for 8.5kw or lower.
Digital Temperature Display
A digital temperature display means you can easily set your desired temperature.
Warm Up Mode
No more cold starts – turn on your shower and the display will flash until the desired temperature has been reached.
Performance Indicator
The shower will briefly show 'CL' to advise you when to clean the external filter and handset. This prolongs the life of the shower and maintains the exhilarating experience.
Adjustable Riser Rail Brackets
The brackets on the riser rail are adjustable which allows you to cover any existing drill holes in the tiles. Please see individual shower information for dimensions.
| | | | | |
| --- | --- | --- | --- | --- |
| | | | | |
| Easy Replacement | ✓ | ✓ | ✓ | ✓ |
| Anti – Limescale | | ✓ | ✓ | ✓ |
| Family Safe Thermostatic | | | ✓ | |
| Digital Temperature Display | | ✓ | ✓ | ✓ |
| Warm Up Mode | | ✓ | ✓ | ✓ |
| Performance Indicator | | ✓ | ✓ | ✓ |
| Multiple Ratings | 8.5 kW 9.5 kW | 8.5 kW 9.5 kW 10.5kW | 8.5 kW 9.5 kW | 8.5 kW 9.5 kW 10.5kW |
| Adjustable Riser Rail Brackets | ✓ | ✓ | ✓ | ✓ |
| Energy Efficiency Rating | A | A | A | A |
| | |
| --- | --- |
| Weight: | 2.62 kg |
| Size: | 10.5kW |
| Dimensions: | 19.5 x 7 x 30.5 cm; 2.62 Kilograms |
| Model: | BL3105 B |
| Part: | BL3105 B |
| Colour: | Black |
| Pack Quantity: | 1 |
| Batteries Required: | No |
| Batteries Included: | No |
| Manufacture: | Bristan |
| Colour: | Black |
| Quantity: | 1 |
| Size: | 10.5kW |