GlassVAC Premium Set UK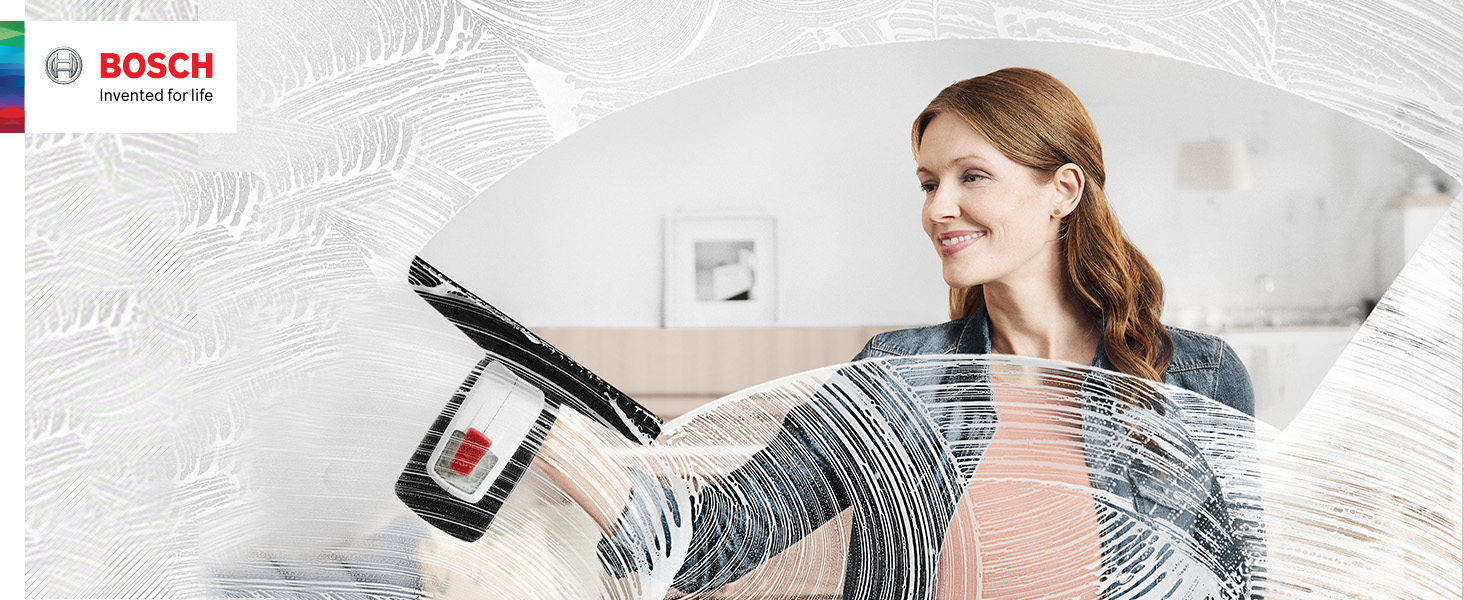 ---
Streak-free window cleaning
Clean windows quickly and with perfect results due to the Bosch "wiper blade technology".
LED battery charge indicator

Always know when the battery is charged thanks to the LED light indicator:

Green – battery is charged

Red – recharge the battery

Streak-free window wiping

Clean windows without any streaks or squeaking thanks to wiper blades featuring Bosch technology from the automotive industry.

Easy bathroom cleaning

Clean easily and with perfect results using GlassVAC on different surfaces, such as: glass, mirrors and tiles. Simply spray on the cleaning solution and vacuum it away with the GlassVAC.

Simple large windows cleaning

Clean large windows easily both indoors and outdoors with the GlassVAC from Bosch. Cleaning window panes became as simple as it could be.

Cleaning car windows with the small cleaning head

With the small cleaning head, even car windows are easy to clean both on the inside and outside. This increases visibility for drivers.

Easy two-step cleaning

1.Mix the detergent with water in the spray bottle and spray onto the surface

2.Remove the water from the surface using the GlassVAC
How do I clean the water tank?
Simply remove the suction head from the main body and pour hot soapy water into the water tank, via the suction head opening, up to the maximum mark. Shake the GlassVAC and pour out the water.
Which detergent can I use with the GlassVAC?
For the best results, use Bosch GlassVAC detergent concentrate (ASIN B07FYLJL98). The GlassVAC should only be used with detergent intended for window vacuums. Do not use undiluted acids, acetone or solvents.
How do I clean the suction head?
Remove the suction head from the main body and rinse under running water. Then simply shake it or leave it to dry slowly.
Can I use the GlassVAC horizontally and vertically?
The window cleaner can be used both horizontally and vertically. However, the appliance can only be used for short periods with the suction head pointing down to prevent water from getting into the suction system.
How do I know when the rubber lip needs to be replaced?
If streaks appear during cleaning, the rubber lip is worn and needs to be replaced.
| | |
| --- | --- |
| Weight: | 700 g |
| Dimensions: | 16.3 x 9.6 x 20.3 cm; 700 Grams |
| Model: | 06008B7070 |
| Part: | 06008B7070 |
| Colour: | Black |
| Pack Quantity: | 1 |
| Batteries Required: | Yes |
| Batteries Included: | Lithium Ion |
| Manufacture: | Bosch |
| Colour: | Black |
| Quantity: | 1 |